Remember when I
planted herbs
in my kitchen window? And how excited I was when they sprouted? And then how they just sort of peeked out and then croaked?
Now that summer's here, I decided to try an herb garden outdoors, in a container. I also decided I may have better luck purchasing a plant that's already growing and then trying to maintain. I found two hardy plants, basil and parsley, at Wal-Mart when I took my grandma there. Yesterday, I picked up a not-too-healthy looking green onion (that's it on the left, lookin' sorta brown and scrawny) and an oregano from a local nursery.
Here they are all snug in their planter. I stuck it near the grass so that the sprinklers would water it for me. Isn't that genius! Now I don't have to do anything at all except tear off their little leaves and munch them.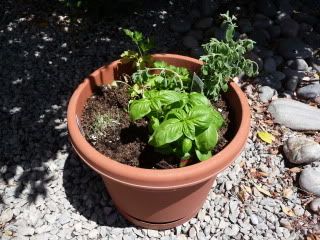 Actually, I do have the problem of protecting them from the particularly harsh New Mexico sun, so I stuck them under this bush where they will get plenty of light during the afternoon and evening but not all day long. I wish I could have it the other way, with most of their exposure in the morning. I may have to keep an eye on them and adjust their location.