I made this Ruffled Spring Top featured on
Sew, Mama, Sew
. I used pieces of my vintage sheet collection, and I love the fabrics. They are a bit, uh, youthful, though. That's OK; sometimes you need to wear pleated, flowery fun-ness.
The blog link above has a tutorial; this shirt can be made to any size. You fill in the blanks with your measurements and go! I keep a big end roll of newsprint around for pattern drafting (my newspaper offers them for free to teachers or whoever. They are just leftovers that they have to throw out), so I measured out my pattern pieces on that.
Sewing wasn't as fast as I expected, but not too bad. It took about 2.5-3 hours. I made several mistakes, but when don't I? Gotta keep it interesting. I definitely recommend you try on as you go, and WEAR A BRA. I had made some miscalculations, and also found that once I put a bra on, the top part wasn't what I thought it was (alright, so I was sewing in my PJs. I was so excited for a sewing day that I didn't want to take the time to shower. I did take a shower break partway through when I got pissed after sewing the top band to the garment with the body inside out). It all worked out in the end. I am considering releasing the pleats in front, since I'm looking sorta flat-chested, but I do like how they look sewn down, in concept.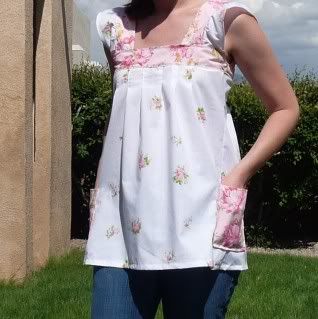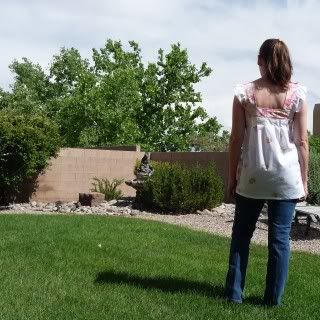 ---------------------------------------------------------------------------
I have to have a gum graft done tomorrow. I have lots of recession and need nine teeth done over the next few years. At $1,100 a tooth, and only $1,500 total benefits per year on my insurance, it could take awhile.
The recession (of my teeth, not the economy) is due to any one or a combination of the following: the six years of orthodontic work I had done as a kid, genetics (it's always fun to blame your problems on your parents!) or brushing too hard.
I'm having one tooth done tomorrow, and I'm scared. Cuz, damn, it's going to hurt afterward. Not to gross you out, but they have to take tissue from the roof of your mouth and sew it onto your gums to protect your teeth. Fun fact: the thickness of your palate is directly proportional to how fat you are! Who'd have thought that the roof of your mouth got fat when your butt did?
I see this as a good opportunity to consume nothing by Instant Breakfast for a few days, watch lots of TV, and sew a lot. Maybe even finish those damn
Spice Socks
.
------------------------------------------------------------------------------
The perfect summer treat:
Raspberries. Perfect ones from Costco. Do you ever wonder why all Costco produce is perfect, plump and unblemished? It
is
sort of creepy, isn't it? What do they do to it?
Also, I wanted to show off my fancy turquoise nail polish. Mark asked me to paint his toenails with it. Weird, huh? He initially admired them, and said, "
Glambert!
" This is a reference to our favorite American Idol, Adam Lambert, who easily gets away with wearing black nail polish and eyeliner. Don't worry, Mark quickly realized the error of his ways.