It's back to work tomorow, after five days off. Even having surgery, it was nice to get away from work. I had a pretty crummy month with things that weren't blogging material, plus major reorganization at work (I'm moving to be a metro desk copy editor, which I think will be fun and different). I then had two six-day workweeks, so this was a welcome break. I got lots of sewing done.
Today, I went to Expo New Mexico (why can't we still just call it the "fairgrounds"?) with a friend and her sweet little newborn to check out the
Fiber Arts Fiesta
. There were gorgeous quilts on display and lots of yarn and goodies for sale.
I am sure it was a struggle for many vendors there, thanks to the economy. I overheard one say so, and I remember trying to hawk my stuff a few years ago. I was a bit of a cheapskate. I really don't buy yarn unless I have a plan for it, and I didn't know what I was looking for. Plus, I have a
Village Wools
gift certificate that I should use next time I want yarn.
I did buy a $1 emery-filled strawberry for sharpening needles and this $5 leather thimble. I need a thimble badly when hand-finishing quilt bindings, and the metal ones are really awkward. I'm hoping this helps.
Oops. I think I have it on upside down. It has a slit for long fingernails, which for some reason gives me the willies.
In the flier for the show, there were various advertisements for fiber-related places. Then there was this one:
Dentistry for "special people." I really have no idea what to make of this. I mean, I immediately think "retarded people," then feel un-PC. Then I think "people with big egos" or "people who have won awards." But how will anybody be sure which it is? Wouldn't you be afraid to call and see if you apply?
Other good things: It rained today, which was fun. My brother managed to recover all my files off my crashed hard drive and has the discs in the mail to me. I ate bacon and instant breakfast for dinner.
And finally, you'll never,
ever
believe this!!!, but I bought yet another fab vintage sheet. And now, I swear, I will stop for a while.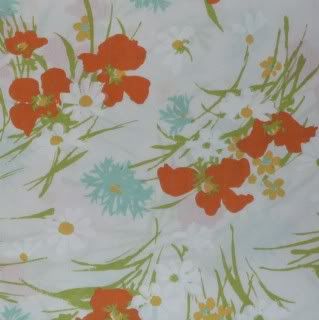 But don't you love it? It's from Thrift Town, where the sheets are even
cheaper
than at Savers!