Wednesday, June 23, 2010
Posted by

Robyn
at 12:27 PM
6 comments


Links to this post
Saturday, June 19, 2010
I simply cannot believe I'm so close to having this bebe! I'm completely ready and not the least bit scared. I think I may get a bit freaked out when I actually enter the hospital, because hospitals just don't impart a good feeling in you. Maybe that's the appeal of home births for some people. I don't think I realized this until I went on a tour of the maternity areas today.
The thing I like about my hospital is that it's very mother/baby friendly. It's pretty much automatic that you're expected to room with your baby. You'd have to go out of your way to have it kept in the nursery. It's pretty much automatic that you're to breast-feed, too. I mean, it's your choice, but I had heard other people talk about nurses formula feeding babies without permission, and I guess that won't be an issue where I'm going. It's also very partner-friendly, encouraging fathers to play their really important part in everything. I like that they give you skin-to-skin contact with baby for the first hour of life. All these things were important to me, but I thought I'd have to request them.
As for how I'm feeling:
Remember the severe mid-back pain I whined about all of the time? Well, for whatever reason, that disappeared. It seemed to coincide with when the baby moved into the right side of my belly. I don't know why he likes hanging out with his head shoved into my pelvic bone, but I sure do feel better.
On the negative side, my feet and ankles started swelling something awful. And now that it's so hot, I feel compelled to cover up with long pants instead of wearing breezy dresses. It's a dignity thing. It's easy to tell me not to care, but I do care. I have very few ways in which I can feel like a decent-looking human being. Therefore, I do what I can. A pedicure, eyebrow wax, makeup, style my hair. Shave my legs, you know. I still look like a cow, but at least I TRY to be pretty. Sometimes I try to hide all of the bad stuff with inappropriately fancy jewelry. I'm not sure if it's foolin' anyone.
I'm totally prepared for the baby, as far as supplies and the nursery go. And mentally and physically, too. Actually, I have not done my Kegel exercises or my perineum massages, and I'll probably pay for that eventually, but I'm just coasting along for a few weeks, looking forward to some time off of work and meeting my precious son. I also haven't picked a pediatrician. Maybe I should do that sometime soon. Sleep has already become rather difficult, so maybe I'll be a little prepared for exhaustion on some level. I'm totally ready to be able to move -- dying to go for a walk! My pelvis hurts with each step I take, so it's really frustrating.
I'll leave you with my cankles/puffy feet. Oh, they get much worse than this. I got to take a nap today, so my earlier swelling went down and then I started over. But at least my toenails are pretty!
Posted by

Robyn
at 10:45 PM
6 comments


Links to this post
Thursday, June 10, 2010
I've finally finished the baby's room. I'm only 4-1/2 weeks away from my due date, you know!
I've shown you the fabrics before: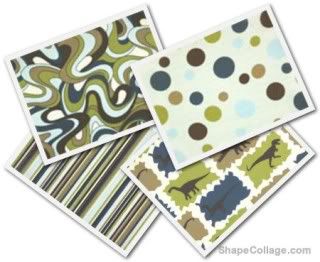 Step right in ...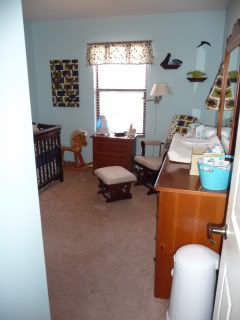 These are the cheapo shelves I once tried to paint with regular paint. Up close, they look just awful. But they came in handy.
I selected the crib online, and did a terrible job of matching the wood to my existing furniture. Too much trouble to send back, though.
The crib will turn into a toddler bed and then a full-size bed.
The mobile was custom made by etsy seller
Buggalove
. I hand-embroidered the dinosaurs in the frames.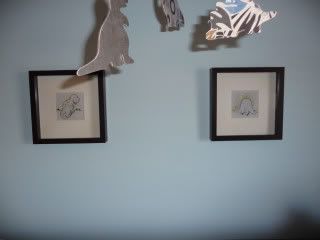 I sewed all of the bedding and such from fabrics I got at Warehouse Fabrics Inc. You can see them
here
,
here
,
here
and
here
. I used Vogue 7245 pattern, which I wouldn't recommend. The instructions were awful and the techniques lacking.
This is a toy holder.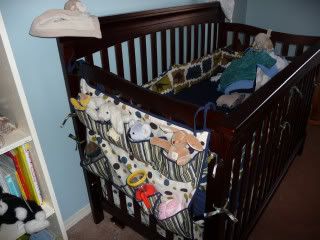 The bumpers are a little loose fitting and need some more work if I choose to use them.
A little hamper, a rocking horse that was handed down to me by a co-worker and a photo holder that I made.
I later decided to whip up this pleated valance for the window. It did a lot for the room, really, and was easy to make. I made a tutorial
here
.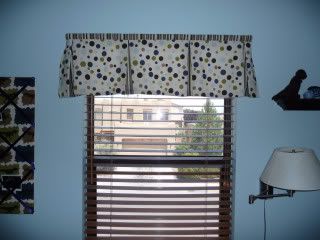 I ended up ordering the cheapest glider chair I could find at Target, and it is really quite comfy! I made the quilt and diaper holder, too.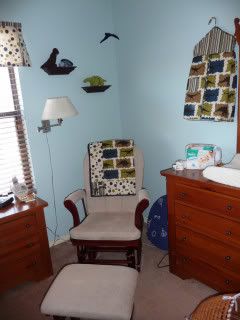 The dresser from my guest bedroom set stayed in the room and will double as a changing table.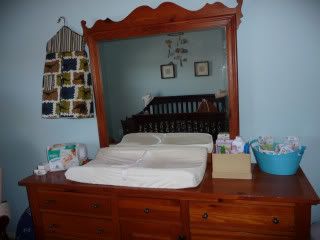 (My cat really likes the changing pad for a bed.)
JackKnits
on etsy.com custom made these dinosaurs for me, and the colors really matched well.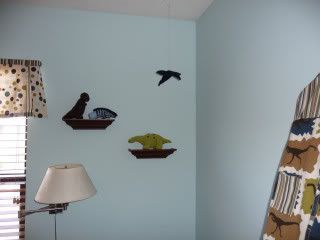 Now I just need to get the bags packed!
Oh, and go into labor and stuff.
Posted by

Robyn
at 10:13 PM
7 comments


Links to this post
First with the funny. My cat, Suggs, is 17. She isn't grooming well and as she started to shed for the summer, her fur got very matted. And so I decided to have her shaved.
Here is a before picture:
Here is an after picture:
Are your LOLing? Are you ROTFLing? I knew it. Poor thing looks ridiculous and Roady (the other cat) hissed at her for days. She seems so pathetic.
On a less comical note, she was always a "fat cat." She has lost a lot of weight, and we could tell by picking her up. The vet wasn't worried because she was overweight before. But now that I see her naked, she looks like she's on death's doorstep.
She's also having a lot of trouble in the **ahem** litter box department. We thought she was severely constipated from all the straining she was doing and the very little that was coming out.
The vet said it was quite the opposite -- she had diarrhea. I don't see how one can mistake the two, but he felt and said there was no back-up inside. So she took some medicine for a week and ate special food for the tummy.
And neither did a thing. She seems to be in pain and she is having "accidents" around the house that aren't doing a lot of good for my marriage since my husband is very upset about living like that.
**edited to add: She had bloodwork done and everything checked out great. There didn't appear to be any problems at all. The vet said next step is X-rays, but he doubted they'd show anything. After that, he said, would be exploratory surgery, which we aren't willing to put her through. She is not having issues with peeing, just "number 2."**
We both think she has something really wrong, but we aren't sure if it's time to put her down. Frankly, we aren't going to put her through treatments for something like cancer, or surgery for that matter, at her age. But she's still eating and drinking and often seems pretty happy, so it's really a hard situation. Any advice?
Posted by

Robyn
at 12:33 PM
11 comments


Links to this post