Click here for a pdf version of this tutorial
I wanted some new pillow shams for my bed, now that we've painted our room and bought new furniture. The old black ones just looked out of place. I found some fabric I like and decided to just wing it. It's very easy, actually!
Here is what I ended up with:
Here's what the bed looked like before. I am modeling my new shams on these old ones. I didn't want a ruffle, just a straight edge.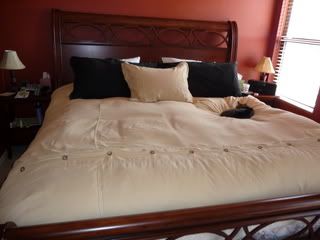 This is for the kind of shams that just have an overlapping back that you insert the pillow through, like this:
The first step is to make some pattern pieces, which consist of just a square and a rectangle. I made king sized shams, so these measurements are for those. Since I already had some shams in that size, I simply took the pillow out, smoothed it flat and measured it. Then I added half-inch seam allowances.
So, get some big paper -- I use unprinted news rolls. I work at a newspaper, and these are the ends of the giant rolls used on the presses. They give them away free, and there is actually quite a bit of paper on it. Check with your local newspaper. I got my 2x18 inch clear grid ruler (this is my No. 1 favorite sewing-related tool) and my square. I created a rectangle 40"x24.5" for the front of my sham. I created a near-square 26"x24.5" for the backs of my shams. Now, in hindsight I realized I made my back pieces overlap too much, making it hard to get my pillows in. I recommend using one piece the size above for the top back piece and another that's a bit smaller for the piece it overlaps, maybe 22"x24.5".
Cut out your fabric. You'll need two front pieces. NOTE: If your fabric has a pattern, think carefully about how you want it centered on your sham, and also try to make both shams the same. You may need to buy extra fabric.: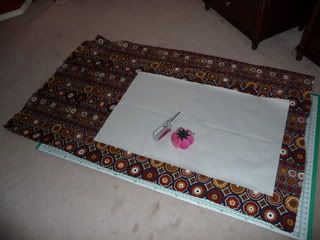 You'll need 4 back pieces to make two shams. Like I said, I used equal-sized almost-squares but recommend you make one square smaller on each pillow: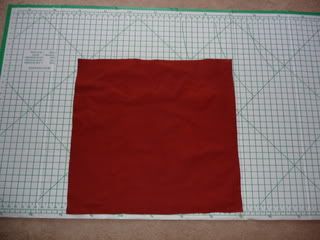 Hem one side edge of each back piece. This will be at the opening of the back of the pillow sham: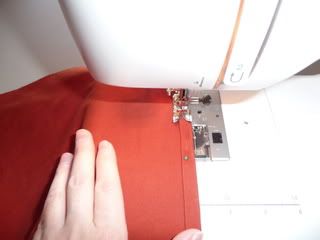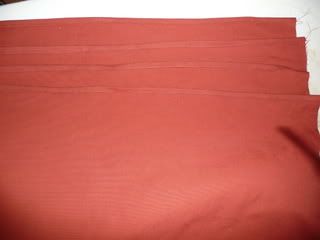 OK - side note. See how my old pillow shams had floppy edges?
I don't like that. So I interfaced the outside edge of my front pieces. I just used scraps I had laying around, so it's a hodge-podge of little pieces. I used iron-on craft-weight interfacing so it would be nice and stiff.
This helped the edges stand up like this: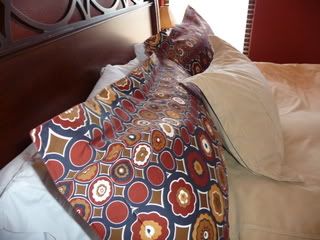 Place the front piece right side up. Then take your larger back piece and put the right side against the right side of the front piece. Pin around edge.
Now take your smaller back piece and do the same thing, overlapping the other piece.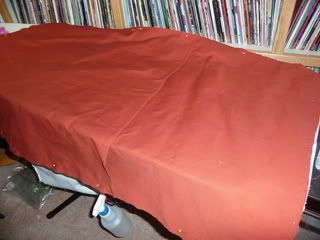 Now sew around the entire outside, with a half-inch seam allowance.
TIP: I have found that when sewing one interfaced piece to a non-interfaced piece, it works much better to sew with the interfacing up. When the interfacing is down and the non-interfaced piece is on top, it often feeds unevenly and bunches the top piece up.
Now trim the corners so they will be nice and pointy when you turn the piece right-side out.
Then press open your seams.
Turn your sham right-side out through the slit opening on the back. Smooth the edges and press.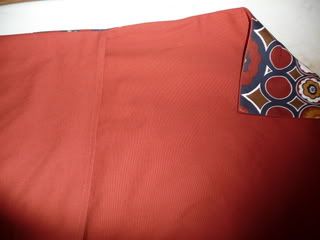 Top stitch along the outside edge of the sham, all the way around.
Now you have this!
Front:
Back:
The next step is to make your little edge, or border. The right word for this is not coming to me, if there is one. I want to have a 2.5" border all the way around. All I'm going to do is sew a line all the way around 2.5" from the edge. Simple!
But first, I have to measure all the way around. First, I'm marking 2.5" down in intervals around the edge, and then I'm using the ruler to connect these intervals and draw a line all the way around using a marking pencil.
Now sew along this line. Insert your pillow, and you're done! I prewashed and cut the fabric the day before. Total sewing time took me about 2 hours.
I also made a throw pillow to match. I'm not sure I like it with the tan pillow behind it, but it will do: