In a
previous post
, I wailed and whined about how much trouble I was having with the V-neck on Vogue 1086.
I went on Fashion-Incubator's forums and asked for advice. The problem was that when I flipped the facing to the inside after sewing, the area of the V was a huge bunched-up mess, too thick to sew through and it wouldn't lay right. I just didn't know what to do with it.
Kathleen Fasanella, who runs the site, posted
this tutorial
today, and I tried it out. It worked like a charm! Amazing.
I had a bit of a mess to work with, since I'd already trimmed seam allowances and cut a bunch of seam allowance bulk out of the V area, but I managed to make it wearable. I don't even care that there my gathers suck. That's the least of my worries regarding this nightmare dress.
The front has a nice, flat V:
What it looked like before, though just pinned:
The back had some major problems, but I think it's wearable now: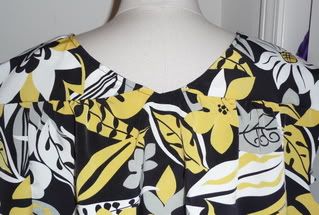 The back was so bad that it wouldn't even turn in to be pinned:
Since taking those photos, I also sewed on the midriff pieces/facings and sewed the front of the skirt. I'm a bit worried the dress will be a little loose in the bodice, but it'll be just awful to try to take this in because the inside is really well finished. It's a garment that looks really nice from the inside, too, with French seams: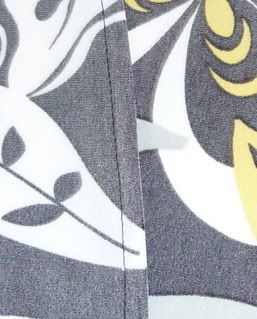 ------------------------------------------------------------------------------
I also redid my main squares on my animals quilt (see
this post
). I had accidentally done the edges in turquoise, messing up the whole look and color scheme of the quilt. I redid them in green, and I'm pretty close to finishing my quilt top.
------------------------------------------------------------------------------
Continuing with my new job as a patternmaker's assistant, I had a mixed couple of days. I worked Thursday and Friday, my second and third days of work. Thursday was no less than a disaster. I could not do anything right whatsoever. I was a huge waste of her time and money, and after I left, I sat in a parking lot and cried because I was so upset. I don't know what was wrong with me. It had something to do with never having worked with a bias-cut garment before and having trouble cutting it. Then I had trouble figuring out how it went together. I then ditched my quilting class because I was in a horrible mood and didn't feel I could small talk with a bunch of people.
I was upset all night and sort of feeling sick over going back today. I knew I had to redeem myself, or if I had another horrible, incapable day, I'd probably have to just agree to quit. But I feel that I did indeed redeem myself. I had a good, productive day, and really made no mistakes. I sewed a few samples and she was pleased with my work, so I'm feeling good again and regained a bit of confidence. I've figured out that it's a fast pace and I need to move, move, move to get done what she needs me to do in four hours.
The plus side is that I have already learned a ton of stuff, just from having to work with fabrics I normally avoid and to sew things I don't normally sew. I realized that I've done a few things the hard way, basically because I taught myself to sew. For one thing, you don't have to cut each pattern piece out perfectly before putting it on the fabric. You can cut around it really quick and then cut on the lines when you are cutting the fabric. Perhaps that's how everyone else does it, but it never crossed my mind.
Also, when I do darts, I mark the dots with a marker and then use a ruler to draw the lines. But it's sure faster to use tracing paper and a wheel.