Too bad I miss most of the morning every day. This week I'm filling in on a day shift, so I've been getting up at the horrible hour of 8 a.m. The plus side of getting up early is that the light is pretty and different than I'm used to.
Today, I thought I heard terrible winds, so I peeked outside. The trees were all still. Then I looked up and saw a bunch of balloons. (The sound was the balloons doing their hot air thing. I don't know the proper words for it.)
Balloons go out in the cold, early morning, so if you're a late sleeper, like I am, sometimes you don't get to see any. And, well, even if you grew up here, it's still a beautiful sight.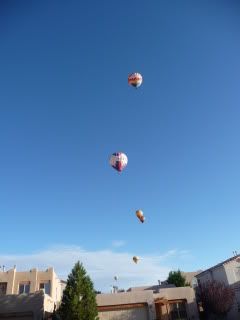 Why, yes, New Mexico does have the most amazing skies in the entire universe.
The Albuquerque International Balloon Fiesta
starts this weekend, and you know what that means: Ungodly, early, freezing mornings, bad traffic on Alameda, which I take to work, and freaked-out dogs barking at the sky. Incidentally, my cats took no notice when they went outside. "Giant floating orbs in the sky. Nothing strange about that."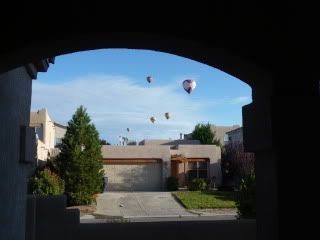 I haven't been to the fiesta since I was a kid, and I hated the cold and the earliness. My mom was smart enough not to go, and my dad would try his best to put my hair in even ponytails.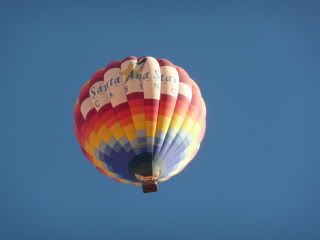 Anyway, people from all over the world come here for the balloons, and they are a sight to see. Albuquerque apparently has some perfect "box" effect that helps the balloons fly just right. My terminology today is awful; I told you that it's too early for me to be up!
By the way, if you're in town for this event, you can take the new Rail Runner Express from the Journal Center area to Santa Fe and spend a day enjoying the amazing cultural activities and dining up there. See Sunday's
Albuquerque Journal
for more information, or visit the
Rail Runner Web site
.