Speaking of things I need to work on, here goes:
1. I'm making fabric scrolls for my friend Ren Adams of
Plastic Pumpkin
. Here's a cropping of a picture I stole from her blog that shows the end result. She does the painting that's mounted on the scrolls. She also chooses the fabric. I have about a dozen of those to do for her: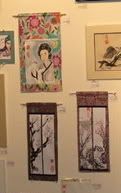 2. This top from McCalls 4369. It's an Asian style sleeveless top. Mine will be made of a rust colored knit fabric (darker than it looks here):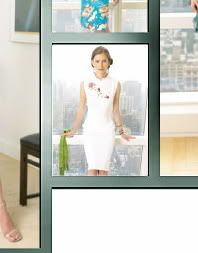 I'm making it to go with this impossible-to-match skirt that I designed and made of an orange brocade last year but have never worn: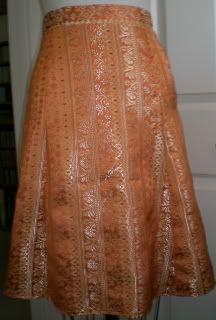 3. There's one more handbag, a padded laptop bag, I've cut out and want to make before I take a short break from bags (aside from custom orders):
4. There's the really ugly PJ bottoms for Mark. He likes the really thin, soft jersey, but surprisingly a lot of it wasn't machine dry-able, but I did find a clearance one that has really ugly horizontal brown and gray stripes. I figure anything looks good compared to his current gray ones with bleach stains and almost no crotch left:
5. PJs for me with a really cute white flannel with little pink paisleys:
6. A skirt with this prosh nesting doll fabric: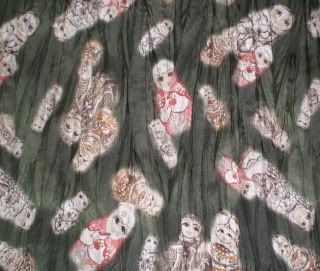 7. A full wrap dress with this most autumnyriffic cloth: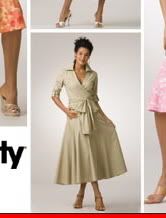 8. A bunch of work on a business concept my mom and I are working on.
Keepin' busy, fo' sho'.