Since I'm closing up my shop, I now get to sew for me, just for fun. I like fun fabrics, but then I sometimes find when I wear clothes with a print, none of my bags match. I decided to use solid fabric, with hints of the fun fabric. I have a big ol' stash of fabric, so I just pulled all these from there and made this little messenger bag.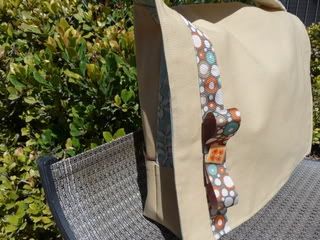 I had this ribbon and button for a long time, but never knew what to do with either of them.
This is the inside of the bag. Under the front flap are pockets for easy access to my phone and pens. I used a variety of fabrics that sorta coordinate. There are pockets inside, too, but I don't think I have that much stuff that needs pockets.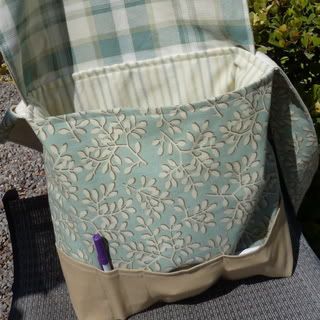 The back of the bag has exterior pockets with piping. Next time, I'd make the pockets deeper and eliminate the divider, so I could put papers and such in there. I didn't have enough piping for the front pocket.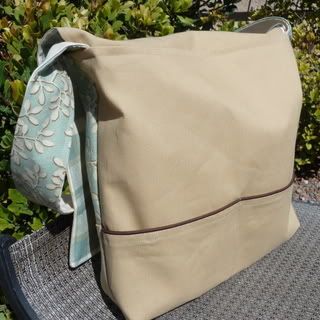 This was my first attempt at a messenger bag, and I learned that next time I need to make the flap at least an inch narrower so it fits between the straps better.
--------------------------------------
My Tilted Duster is coming along. Still doesn't look like much, and I have a ways to go: