Oh, man. What a dorkamabus. I just noticed this has been on my blog as "F.Q.A." instead of "F.A.Q." I have fixed it. Now on with the post...
I see frequently asked questions on other blogs. I guess those blogs have readers and stuff. Nobody asks me any questions, but that won't stop me from providing answers.
1. What kind of sewing machine do you use?
I use a Kenmore 385 something or other, and I love it. I also have a Brother serger that I am not too familiar with. Threading it is scary, so I try to be very nice to it.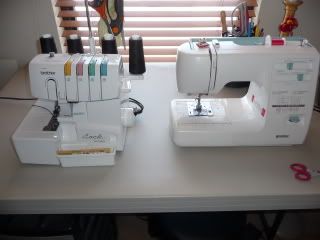 2. What is your studio like?
My studio is a folding table shoved into a tiny space. I do have a window, and I have plans to have a carpenter that we used before come and build me a compact corner sewing station with hutch. I drew a picture, but, well, good thing I'm not an architect or something. Dimensions and scale are not my forte.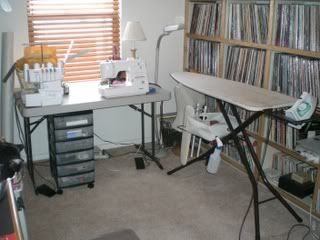 3. What kind of camera do you use?
I know what you're really asking: "How do you take such crappy pictures?" I use whatever point and shoot piece of junk that's on sale at Costco whenever my previous camera breaks. Right now it's a Panasonic DMC-TZ4. It's got a fabulous all-or-nothing flash that either over or under exposes every picture I take. I cannot do those artsy pictures that focus on particular thing. I just get what it gives me. I'm a terrible photographer.

4. As a New Mexican, do you pronounce "seven" as "saven" and "eleven" and "elaven" (with the "a" as in "apple")?
I do not. I make fun of people who do, though. I have heard outsiders say that New Mexicans have a certain accent. This is very disconcerting to me, as it cannot be a good thing.

5. What crafts do you do, and how did you get started in them?
Most of my life, I could have cared less about arts and/or crafts. Then, weeks before my 30th birthday, I had a sudden hankering to sew. I got everyone to pitch in on a sewing machine and I taught myself. I was immediately obsessed.
I have also studied a bit of fashion design at the Santa Fe Community College. It was just for the learning experience.
I took up knitting a few years ago, again, self-taught. I love knitting. I also learned how to dye and spin yarn, but I'm not as excited about those hobbies.
I am now a quilter, as well. Here is my first quilt, for my mother-in-law: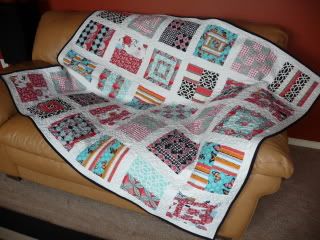 6. Why should I read your blog?
You shouldn't, probably. It's really not that interesting. I'm really excited that there are a few people who do bother to read it regularly.
7. Your blog is called "Additional Jesus." Are you a religious nut?
No. I am not religious at all. But for some reason the term "the baby Jesus" always gets me giggling. If you want to know where my blog got its name, click
here
.