I made this quilt for my friend
Amy's
yet-to-be-born baby, and now that she's received it, I can show pictures. I used the same pattern as the one with the giraffe (
click here
) bought from Oh, Fransson's etsy shop.
Since the sex of the baby is unknown, I didn't know what colors to go with. I had this fabric I had used for my
Cubic Rhythm
couch quilt left over, and I loved it so much that I was excited that I had enough for this project, too. I thought maybe it could go for a boy or a girl. I tried to balance the pinks with greens.
I wanted to do the applique of a chihuahua, specifically Amy's chihuahua Chickenbone Jones. I wish I had made the applique bigger, but I guess chihuahuas are extremely small in real life, too. To get the applique, I did a Google images search for chihuahua silhouette and then made it bigger on my computer, printed it and cut it out of brown flannel.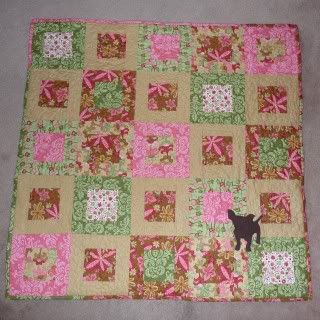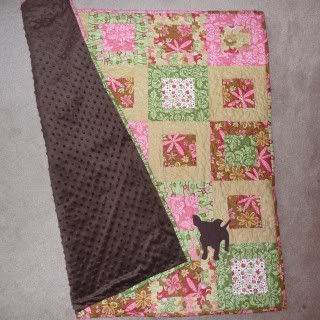 The back is chocolate brown minky, which is very soft. It's not easy to work with and ended up sort of baggy. The binding I made out of various pieces of the main fabrics.