I'm not sure. You see, I came across this sweater pattern online and now I HAVE TO HAVE IT!!!!!
It's the short-sleeved
Trapeze Jacket
at Stitch Diva.
I thought of a few problems: It would take me so long to finish it that it will be winter and I won't be able to wear it till next summer, and then will I still like it? And the yarn they use has 1/3 wool. I can't have wool directly touch my skin or I'll scratch myself to death.
I was silly to think my problems ended there. OK. First problem is finding a yarn substitution. Even if I felt I could take the wool, if I use the yarn they suggest (this
Elsie by Tilly Tomas
), I would need about $160 worth. All I can say about that is "!!!!!!!!!!!!!" I wouldn't pay that much for a sweater, and I don't want to pay that much for the yarn for a sweater that I have to spend months making and will probably mess up. But, you see, if you don't get a similar yarn substitution, the sweater won't be the right size.
So I went to Village Wools and asked for help. I showed them the pattern and asked for help finding a yarn. I wanted cotton, and I wanted bright red or cranberry. In the end, I chose this
Rowan cotton glace
. I bought just one ball so that I could test my gauge.
Test my gauge -- this is the fun part of knitting. I actually meant the not-fun part. This is where you knit a test sample of a certain number of stitches and rows in a certain designated pattern to see if your size matches theirs. Everyone knits differently, so if your SQUARE is bigger or smaller, you go up or down in needle size till you match the pattern. I've never really bothered much with this because specific size hasn't mattered a whole lot for me yet.
So I knit my swatch, and I can't say that it went all that quickly. It was 28 stitches across, plus selvage edge and 32 rows long. This was supposed to equal 4x4 inches. Mine equaled 5x3.5 inches. That's not even a square! So one way it's too big, the other too small. Now I have no idea what to do about changing needles!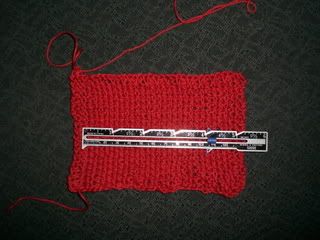 I was fearing that this project was beyond my abilities, but holy cow! I can't even get past the swatch. I'm going to Village Wools today for the help session to get advice.
In the meantime, while trying to figure out the yarn for that project, I'm starting on this handbag for the fall. It's called the
Brea Bag
, and is a free pattern. Click the picture for the pattern.
I'm doing mine in the same yarn they use, the
Ultra Alpaca
, but in gray. I thought that would be more versatile, and I'm probably going to do some other kind of handle.
I'm off to a great start on that one as well. I was knitting my swatch last night while very tired and yapping on the phone. I got halfway through and realized I was doing the wrong stitch pattern. I started over and then realized my swatch was too small. I then read the instructions again and found I was supposed to be using two strands at the same time, which would make it a bit bigger. So now I have to start over on that.
KNITTING PARTER:
I've wanted someone to knit with for a long time. There are many knitting groups in town, but they always meet in the evenings when I work. I met a person on Duke City Fix and we are meeting tonight to knit. I'm excited at the idea of a knitting friend, and even just a new friend.