I made the most of my one day off yesterday. I made three bags, got my oil changed, got my wheels rotated and balanced at Costco and shopped there, bought an air filter, got my brother to remotely work on my computer, which was acting like a nightmare, opened the computer and blew out a pound of dust, checked paint prices, finished my sock and started a new one. Phew!
This bag is a custom order for my friend's mom. Sorry for the tiny pic:
These two are just for fun. I had only been making custom items lately for sale, so with an upcoming show, I decided to add a few pieces. These are both new styles: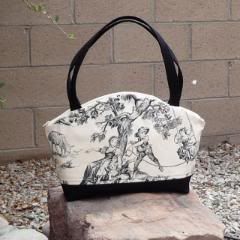 I am working on these socks, just for me, but I'm kind of over the yarn at this point. I'm just trying to get the second sock done so I can move on to a yarn I like. They are wool, yellow and gray. This is my first pair. There are a few itty-bitty mistakes on the first sock, but nothing too noticeable. Mark wonders why I don't just buy socks instead of spending weeks making them. Well, I DO buy socks. But there's just something special about having hand-knit wool socks, and the yarns available are so pretty, you can't buy socks like those. That's why, silly.