In my last post, I talked about making creme fraiche so that I could make these tuna thingies.
The recipe appears at the bottom. First, combine ingredients.
Mmmmmmmmmmmmmm.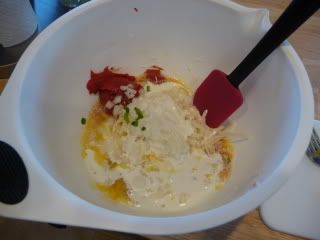 This is where you think, "What have I done? This is not healthy."
Double Mmmmmmmmmmmmmm. I won't tell you what this reminded me of. OK, bloody barf. That's what. Sorry.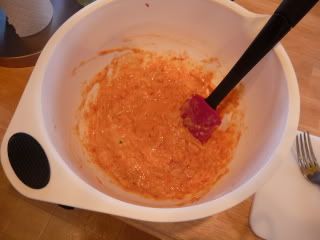 Grease muffin tins. I am lazy and use this stuff.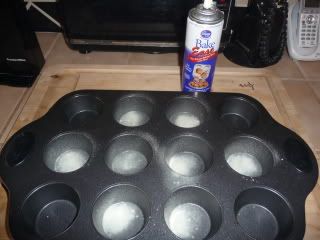 Bake.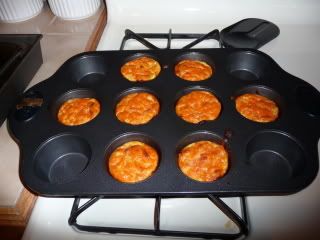 Eat with some salad to make yourself feel better about all the cream, eggs and cheese you are eating.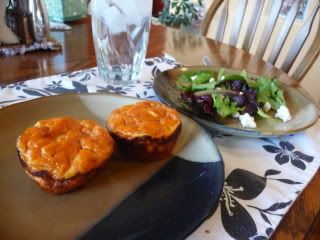 Starve because you limited yourself to only two, and they are not very big.
They tasted good. That's about all I can say. Not really worth the trouble, but good.
Here is the recipe for bouchons au thon (French for "little tuna muffin things")
6 oz canned tuna, drained
1 C grated Gruyere cheese
1/3 C creme fraiche
3 T tomato paste
1/4 C chopped yellow onion
leaves from 2-3 sprigs flat leaf parsley, finely chopped
1/4 t salt
mix everything up, put in greased muffin tins (makes 8), bake at 325 for 20-25 minutes or until tops and edges are set. Will collapse a bit as they cool. May freeze for a month after cooling.
per serving of two:
235 calories, 23 g protein, 14 g fat (!!!!)
--------------------------------------------------------------------------------
I used parsley from my herb garden for that recipe. It's the first time I've used anything from my herb garden, partially because most of it's dead, and the rest is confused.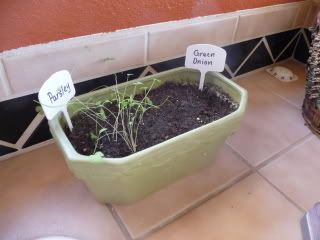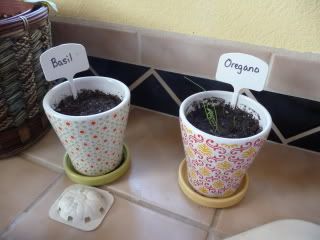 My parsley is OK, but the green onion died. So did the basil. The oregano died before, but came back to life, with some green onion next to it. I do not know how that green onion got there.
------------------------------------------------------------------------------
I received some vintage sheets from New Zealand thanks to the
vintage sheet swap
on flickr. I can't wait to get started on the
Nine Pillowcase Quilt
once the pattern is available.
This will add some color to my current collection of vintage sheets