After painting the bedroom, I was pretty sure I would never paint anything again. It took three days. Then, about 24 hours later I decided to paint the bathroom. Who knows how the human brain works?
I painted it the same color as the bedroom, Fudge Bar by Behr. While I was thrilled by the new look of the bedroom, I was less thrilled with the bathroom. It's fine, but I'm just not overly excited by it. One thing that surprised me: I painted the whole bathroom in a matter of hours. I guess I'm becoming an expert.
Here is the bathroom before: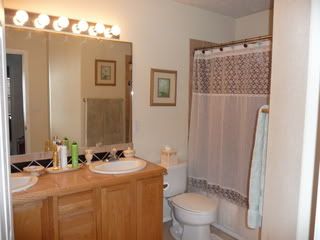 Here is the bathroom after. It's kind of like those people makeovers where you think how they cleaned them up all nice for the after picture, so it's hard to compare. The bathroom was really dirty before, but after I painted I cleaned it and put away the junk:
I have this sheer shower curtain, and I bought a brown liner to go under it. Then I came across these shower curtain hooks and that's what inspired a color scheme of chocolate/turquoise -- kind of desert-like. Only in the end, I had more of an aqua/greenish look to the accessories. This is partly because of the "artwork" on the walls that I already had and because I don't want to buy new towels.
I found these counter accessories for half price at Target. They have little cutouts in the ceramic, but it's hard to see here:
I also decided to replace the knobs on my spare bedroom furniture. I like the original wooden knobs, but after many moves, some of the knobs were stripped and wouldn't stay on, even with glue. The night stand is permanently missing 2 knobs and the dresser has one that's only setting there, but falls off if you touch it.
I switched to these metal knobs: