Oh my goodness. I LOVE LOVE LOVE this apron. I wish it were a skirt, actually. Maybe I'll make one like this, but it will cover my butt, you know?
Right before I made this apron, I had fears that the pattern was too short, meaning that it wouldn't cover the rear end well. Not that it needs to, because you should be wearing something underneath. Unless you're being naughty, in which case it still doesn't need to cover the butt. But on another pattern (the peach and brown one a few posts down) my mom said it would look better if it extended around more. So I added several inches to this pattern before making it. Alas, it ended up being a bigger-sized apron. If your waist is smaller than 33 inches, then it won't tie shut because the sides will meet together first.
That's OK! I'm sure there are some larger ladies out there who would look great in this! It's really well-made -- there are no visible hemmed edges anywhere. Both sides are equally finished -- the inside waist is sewn carefully by hand.
It's for sale at
Babycakes Aprons
.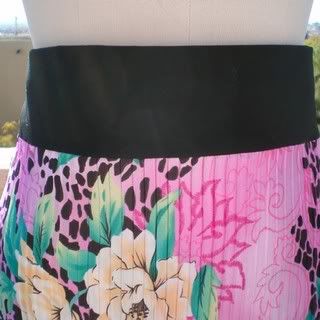 I can also make this in a smaller size, so contact me!