Outta here
I'm getting ready for vacation. Today's my last day of work until Aug. 9! We're just going on a quick jaunt for our 4th wedding anniversary, which is tomorrow. Then I have lots of time off just hanging around the house, which I LOVE.
Favorite Things
One of the patterns I've been drooling over is the Uptown Coat pattern by
Favorite Things
. I finally bought it, then anguished over the fabric. I saw this
Porcelina
fabric in an e-mail newsletter from Fat Quarter Shop, and despite looking around, I kept coming back to it. The fabric on the left is the main jacket fabric, and the other two form the chest area. It's like the turquoise coat on the pattern below.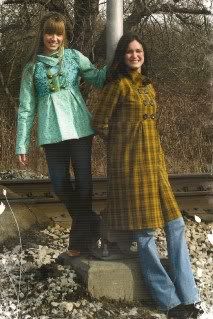 Vintage sheets quilt
Also, I've finally gotten moving on my Clothesline Quilt, AKA the Nine Pillowcase Quilt. It's the vintage sheets quilt that I was so excited for, and when the pattern finally was posted, I realized that the cutting was sort of hard. I did use a lot of pillowcases, but I also used a few sheets, and boy were they a pain to cut with a rotary blade.
Oh, Fransson's version can be found
here
. She's the one who had the tutorial.
My main issue is that I want this to be a quilt for a queen size bed, so that means I need to add extra blocks. But that's going to ruin the 9-9-9 symmetry of the quilt. There are 9 tiny squares in the small blocks, then 9 small blocks in a big block, then 9 big blocks make up the quilt. If I add blocks, it messes that up, but I guess I'll live with it, because I want it to fit a bed and I've already cut the strips. I guess I could have made them bigger in the first place, but they would have been been
a lot
bigger.
Embroidery
I've been having fun embroidering. One of my projects will likely be one of the gifts for my five recipients from
this post
. So I won't show it until they get it, so it will be a surprise.
But I have so many ideas going. One thing I want to do is take this image and embroider it on a piece of tan fabric and make a handbag for myself.
Now I just need to buckle down and finish some things. Forget about the socks I've been working on for months. I'm making no progress at all. And hell if I'm going to take my
knitting on the plane
this time.