Since February, I have been planning and working on these Spice Socks from "2-at-a-Time Socks."
Here's why: I wanted this book, so my mom got it for me for Christmas. A few months later, I was flipping through it looking for a project when I came across a sticky note with my mom's writing saying, "I want these." So I decided to make them for her for Mother's Day. Mother's Day seemed like a long time away, so I thought I had plenty of time to finish them.
They still aren't done.
I ran into several roadblocks. First off was learning this technique of knitting two socks at once on one circular needle. But I grasped that quickly enough. Second was doing the colorwork at the top of the leg. I had done just a little colorwork before, but this was four colors, and since I had two socks on one needle, that meant I had 8 balls of yarn tangling around each other. What a mess.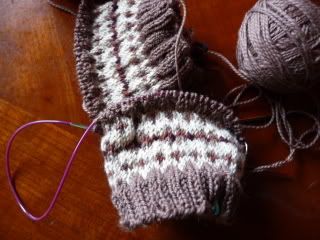 After that was done, it was smooth sailing. Until I finished the heel and had to pick up stitches and reconnect the insole. I didn't do it right and ended up with the socks on the needle in a very messed up manner that was impossible to work with. So I had to run a yarn through and take them off the needles and then put them back on. This seems simple enough, but I think it took me two hours.
From there, I knitted for a while and was partway down the foot when I decided to try them on. This is when I realized that the colorwork part was really tight and wouldn't fit over a foot. This miserable piece of news came to me simultaneously with Adam Lambert's "bottom two" announcement on "American Idol." I just felt sick. I wanted to cry. It was all too much.
I had a co-worker with size 2.5 feet try them on, and she couldn't fit them over her feet, either. So I finished the socks and decided to undo them from the top and work that part over on bigger needles.
Fun fact: frogging ribbing from the cast-on edge is, well, a gigantic nightmare. It doesn't just pull out. It has to be unwound by hand every few stitches. So, another several hours just undoing it and getting the stitches back on the needles. I then went up from the size 2s I used to size 5s.
I finished one sock, and the good news is that it fits over a foot. The bad news is that it is ugly. But it does seem to be OK when worn. The stitches are just too loose, and I guess I should have used a four, though they are not that different in size.
Now I have to do the other one, and I'm really not that motivated.
Here's the real kicker (and Mom, I'm not mad): my mom didn't even remember seeing or wanting those socks in the first place. Oh, man. All that for nothing! Well, she's getting them, and she is required to wear them in all their goofy glory because her kid made them. That is part of being a mom.