I finished the baby quilt I was making for a friend. The pattern can be found at
Oh, Fransson's etsy.com shop
. It was the first quilt I ever started (but not the first finished, as seen in my last post), and I really liked her fabric choice. Not being great at quilt fabric selections, I pretty much tried to copy what she did exactly.
What attracted me to this baby quilt was that it is kid-like without the typical baby stuff. Usually a baby blanket with animals would be Noah's Ark, though I've never figured why drowning the whole planet's living creatures, minus a few that fit on a boat, is a good baby story. Here, honey, let me read you a bedtime story about the time God inflicted his wrath and killed everybody.
Sorry, what was I talking about? Oh, yes. The quilt. The animals on this quilt are jungle animals. And the colors are vivid blues and greens. I wanted to use the animal fabric she used (Alexander Henry Zoo something or other), so I tracked it down and started with that. I then paired it with navy, lime, olive, turquoise and others. The binding is brown with white polka dots, which I also copy-catted from the original. Someday, I'll get the confidence to have my own ideas. Maybe.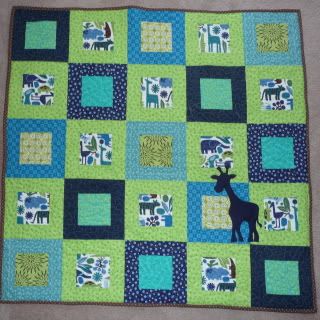 I appliqued a giraffe onto the quilt. It came with the pattern and was my first applique. I did a good job!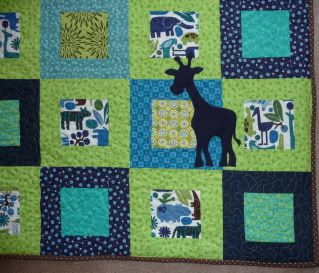 The back is cotton chenille in a light blue, messy to work with, but nice and soft.
------------------------------------------------------------------------------
I missed my quilting class because my car broke down. I think T-Shirt face has it running for now. The electrical system keeps going ka-put. But it seemed to be a loose battery cable. Mark and I have agreed it's time for a new car, anyway. My car is only eight years old, but little things have been acting up. I kept saying I'd wait until it died on me, but it sort of did. I'm considering the Chevrolet Cobalt. I firmly believe a car shouldn't cost more than $15,000. As years pass, that's getting harder and harder, but they do still exist. This may be an excellent time to buy a car, because the car industry is on the desperate side. And I have a husband who is one hell of a tough negotiator.
Anyway, I missed quilting class and decided to catch up on my last project. Next week is the last week. I'm not very motivated on my class projects because they seem like practice projects to me. But for my table runner, I spent a pretty penny on fabrics on the off-chance I'd want to put it out in my house. I picked fabrics I thought would match the black/tan/rust look to our house.
Many of my squares are flawed, but if you don't know better, you won't even notice. I have begun quilting and decided to have fun and try different methods. I have tried a square spiral, which looks a bit sloppy, and 2-way diagonal lines. I have three more squares to do and then for the border I will do free motion quilting.
--------------------------------------------------------------------------------
I got a li'l stool for my sewing seat. I have a cramped work area, and I would pull over the big desk chair (with arms) when I sewed. Sometimes we fight for the chair when Mark needs the computer, and, frankly, the chair was too big and cumbersome for the sewing corner. I don't need the back rest when I sew, anyway. I was surprised by how much stools like this cost. I finally found this one for $50 on eBay, but I sorta got what I paid for. It took me forever to pop the casters on, and I ended up needing a tool to make some adjustments so they'd fit.
The bonus is that whenever I'd stand up to press something, my cats would jump up and take my chair (or my husband would), so now there's no appeal to them. The downside is that the cheap vinyl cover makes my butt sweaty.
-------------------------------------------------------------------------------
What is this strange concoction? It's homemade creme fraiche. I wanted to make this recipe that ran in the paper, but I didn't even know what creme fraiche was. It's a French sour cream, and I read that it's not all that easy to find here in the U.S. When you do find it, it costs and arm and a leg. So I made my own. All you need is two ingredients and time.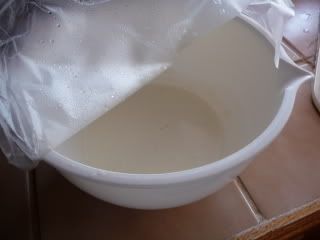 Creme fraiche
1 C whipping cream (if it's ultra pasteurized, it will take longer. But that's all I could find)
1-2 T buttermilk (why is it always sold in such huge containers, but all you ever need for any recipe is 1 or 2 tablespoons?)
Heat the whipping cream in a pot to 105 degrees and then stir in buttermilk. Pour into a bowl and loosely cover with plastic wrap. Let set in a warm place for 24 or more hours, stirring every 6 hours or so until it's thickened. It took mine 48 hours.
The reason I said 1-2 T buttermilk is because it varies by recipe. I used one, but it took a long time to thicken, so maybe I'd try two next time. Also, some recipes don't have you heat the cream, but maybe it speeds up the process? I don't know.
Here is the recipe for bouchons au thon (French for "little tuna muffin things")
(I have not tried them yet, but plan to for lunch. I'll let you know how it goes.)
6 oz canned tuna, drained
1 C grated Gruyere cheese
1/3 C creme fraiche
3 T tomato paste
1/4 C chopped yellow onion
leaves from 2-3 sprigs flat leaf parsley, finely chopped
1/4 t salt
mix everything up, put in greased muffin tins (makes 8), bake at 325 for 20-25 minutes or until tops and edges are set. Will collapse a bit as they cool. May freeze for a month after cooling.
per serving of two:
235 calories, 23 g protein, 14 g fat (!!!!)