Remember the days when everybody dressed nicely all the time? When jeans would never be seen at a wedding? Neither do I, because I was born in the '70s and grew up in N.M. Everytime I look at clothes from the 1970s, I want to cry because it's not fair that I came from that time. For 10 entire years,
nobody
looked good.
But in the 1950s, and early-'60s, people always looked good. At least it seems that way, since I wasn't there to witness it. I liked that women always wore high heels and dresses, although I don't believe they really wore them while vacuuming and cleaning bathrooms like on TV.
For my draping and flat pattern classes I have to think of a project to design. "Dreamgirls" really inspired me to do something modest, ladylike and elegant. I want to update it by not having an overly full skirt. I'm thinking a combination of these things (bad scans):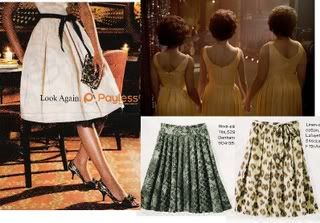 Yes, I hate to admit that I'm finding inspiration in a Payless Shoe Source ad. I'm going for the pleated skirt and the fitted bodice with a v-back and modest front.