Today's featured
www.etsy.com
seller is
Abacus
. Abacus makes colorful, beautiful, feminine jewelry. The purples and blues jump out at me, particularly. I LOVE, LOVE, LOVE the colors of this one: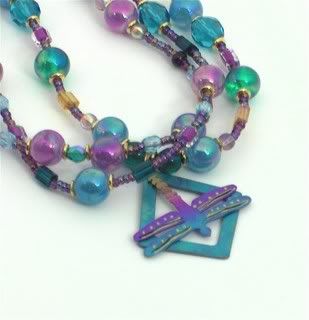 Abacus is self-taught and started making jewelry about 10 years ago for herself. She ended up with so much jewelry that she couldn't wear them all (I know how that goes. Hence MY etsy store!)
Abacus hit the craft show circuit "in order to finance a growing bead addiction. Love to find little bead stores where ever I travel. Can't resist acquiring something I've never seen before. It's led to a pretty quirky and eclectic mix in my bead stash. I work with beads of stone, wood, metal, glass, shell, pretty much anything that strikes me. My own taste runs to small beads and dainty, classic pieces but every once in a while I like to break out and try something 'out of character.'"
Abacus discovered etsy through her daughter, whose store on etsy is
www.cascade.etsy.com
. She says an online store is "oh-so-different from what I am used to at craft fairs. I've only sold one small item, but I'm in the most crowded category so I'm trying to be patient and meanwhile learning as much as I can from fellow etsiers who are incredibly generous with advice."
"I have joined a fantasticly talented and motivated street team, EJA (eclectic jewelry artisans) dedicated to improving our visibility and success on the site. The team has its own Web site:
www.eeja.org
.
I plan to continue craft fairs but see etsy as a way of expanding my horizons and extending my selling season. My etsy shop serves as a convenient gallery when I apply to juried shows and allows me to accept credit card sales (too expensive for me otherwise)."
If you're looking for something pretty and completely unique, pay Abacus a visit at
www.abacus.etsy.com
.