I sewed and sewed and all I have to show for it is this lousy bag. It was one of the hardest things I ever sewed, and it's ugly.
What my end goal was, but in black: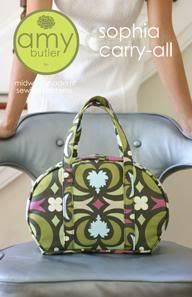 What I ended up with: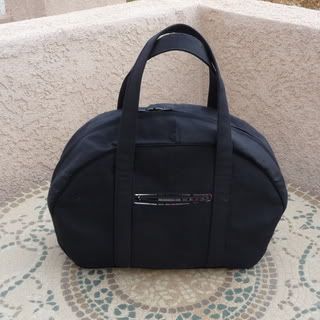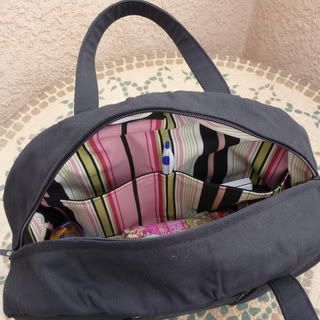 There were part of this bag where the layers are so thick that I couldn't get it under my presser foot. It was an incredible battle to sew, what with the thick cotton duck fabric, interfacing and fusible fleece. Add in another layer of all those plus some piping, and you've got yourself one thick seam. I steamed and steamed, but I couldn't get it too look smooth.
I think of all bags to make in a solid, this might have been a bad pattern choice. It just looks like a little piece of bland luggage instead of a purse.
I also decided to add an outer zipper pocket where I could keep my keys. (You can see how to do this
here
.) In hindsight, I would have done this before sewing the straps on, because they just got in the way and made everything way too thick. I also was sloppy with my zipper opening, since I was just guessing at how big a centimeter is. Turns out, it needs to be pretty specific or you could end up with a hole that's as wide as your zipper tape, and you need the zipper tape to sew the two together. Also, I used lining fabric to make my pocket, and when I flipped it inwards, I couldn't completely hide the colored fabric, so it shows a bit. I should have used the black fabric to avoid this.
When it came time to sew the front panels to the part that goes in between (with the zipper), it said to ease it together, but it doesn't have you do any basting stitches to even distribute any extra. But there is a little extra, and I ended up with unwanted tucks along my seam. I would recommend just making it smooth and trimming from the bottom.
As for the internal pockets, it says to sew a line in the center, thereby creating two equal pockets on each side. On one side, I put a pen slot in the center by sewing two lines about an inch apart. On the other side, I opted to not do any divider so I'd have a big place to stick papers and such.
You're supposed to hand stitch the lining in along the zipper. I just sewed along the previous seamline on the outside where I sewed the zipper in to the main fabric. I was unable to get all the way around the ends of the zipper, so that left a gap that should be finished by hand, but I don't care enough to do that. While I normally don't mind semi-short handles, these are a bit too short. I have a hard time carrying this on my shoulder, though I have small arms. With the bulk of a coat, there's no way.
In the end, I'd say that as much as I love Amy Butler designs, this one was not worth the difficulty.