What have I been doing? Nothing particularly exciting. Knitting a lot. I've taken to starting multiple projects so that I don't get tired of working on things. I finished one of my fingerless mitts, only to find that although I adjusted the length well, it is too big around and has a doofy, loose thumb. So I am now less motivated to make the matching glove. I
will
do it, though. I'm going out of town for Thanksgiving, so I think it will make a nice, compact travel project.
I'm also working on some socks from a bright pink and purple yarn I dyed -- another good travel project.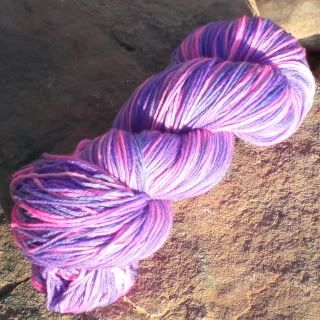 I finished the front pieces of my Soldier's Sweater and started the back, but I just realized a few minutes ago that I used the wrong needles for the few rows I've done on the back and must start again.
Friday night, I went to the Sock Hop at
Village Wools
. I was surprised that they didn't have the store open for purchases, but I had a good time because I got to see the magic loop 2-at-a-time socks method in action. It's something that I've tried to follow instructions for online, only to feel like my brain is exploding. It's really not bad at all when you can have it shown to you.
Last night, I went to the grocery store and bought some food, finding lots of good deals and buying mostly healthy stuff. I then went home and prepared several meals for the next few days, which I'm quite proud of.
I also worked on making a hat -- a sewn, not knitted, hat -- which is a first for me. It's working well, so far, but I can't tell the finished result yet.
I found a fun swap on
Ravelry
in the
Selfish Knitters
group where you could let go of some of your unwanted yarn and receive a box of goodies in exchange. I got rid of some stuff I didn't want and I also got this cute cotton yarn:
Finally, for our trip, I decided to make little travel blankets. I have heard that with the cutbacks airlines are making, more of them are charging for blankets and then just letting you keep them -- in other words, you are to supply your own. So I thought it would be cheaper to buy some fleece at the store and make my own. Fleece is pretty much always on sale.
All you need is one yard. When you unfold it, it's the perfect length. you really don't want it too unwieldy and big in an airplane seat.
Fleece is great because it doesn't unravel, so technically, you don't have to finish the edges. That means that even someone who doesn't sew can do this. I chose to serge my edges because I thought it would look nicer.
Now, if you've read my previous posts about fleece, I'm usually not a fan of silly prints. But I thought for this situation, it was acceptable. So I selected a cat fabric for me and a Bengals football fabric for Mark. He is really embarrassed by it, and not just because his favorite team bites. He went out of town today, and I asked if he wanted his blanket for the plane ride. He responded, "I'm not going to walk around the airport lookin' like damn Linus."
Now, for Mark's print, because it's directional, I bought a little extra. Otherwise, the print would face sideways. Not that it would matter, really, but I just didn't want that. So keep in mind that the one yard is the width and that the length is the "width" of the bolt, when you unfold it. If you're going to have to turn your fabric because of the print, you need to buy a bit more than a yard. I have a bad feeling that this made no sense.