Guess what I'm making? Gloves! It seems so scary, but I'm taking it one round at a time, like always. And it's not scary at all! It's fun. They are so pretty, with tiny cables running all the way up. These are fingerless gloves, and
the pattern
is for a man's hand or a large woman's hand, which I didn't notice at first. So I'm looking for modifications to make it smaller.
When I finish them, I'll post a new post with pics and those modifications for anyone else who wants to try them.
Here is the right glove, about to mid-hand:
Because it's black, it's hard to see the detail. The yarn is wonderful -- Elsebeth Lavold Angora. It's so soft, and I got it on the sale shelf at Village Wools for $8 a skein. I think I'll get away with just one skein per glove, but I have an extra on hold just in case.
This yarn is so wonderful that when I found more at Tuesday Morning (what are the chances!?), I had to buy it. I got this brown for only $5 a skein, which is at least half price. So, in other words, gloves that could have cost me $30 to make will only cost $15, and that ain't half bad!
--------------------------------------------------------------------------------
The weather has most certainly taken a turn from the unusually balmy October we had. It's pretty cold, and I hate the cold. But the plus side is that I can make use of all this wool stuff I'm knitting. Yesterday I wore my long ivory wool coat with the waist tie (no, I didn't knit that. It's just a regular coat). I wore it with my bright purple crocheted scarf and felted flower brooch, and I must say that I felt well-accessorized. It put a wee bounce in my step.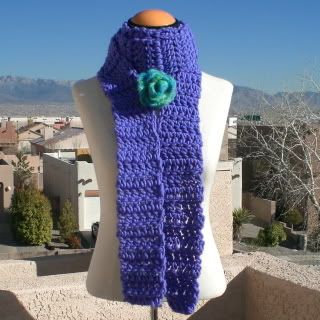 (By the way, Mark thinks this is the most hideous color combo in existence, but I don't care. I like it anyway. He also says that pink and gray should not come in contact (like another scarf/flower brooch combo I made). But wait -- as I just typed that, I remembered that he recently bought gray and pink madras shorts. Ha! Proof, on my side!)
Now, I'm trying to convince myself to go for a walk, all bundled up, of course. But I hear wind howling through my window right now, and I don't think I can do it.