Months ago, I started working on the
Casual Glamour Capelet
by Stitch Diva. I had to set it aside to do the
Asagio Shawl
I promised a friend.
Do you like my pose? I had to crop my hair out because it was ridiculous -- I was in the process of getting ready.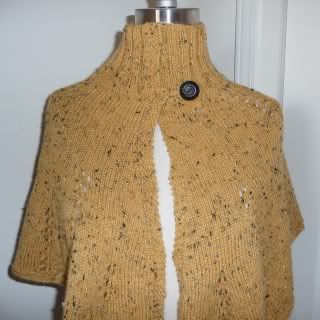 Oh, but I made a big mistake. I decided to measure to see if I was nearly done, and I read the diagram wrong. I wasn't supposed to count the collar in the measurement, but I did.
I realized after I bound off that I was at least three inches short. But I didn't want to fix it. The whole thing actually seemed too small around.
After blocking, it improved greatly. It's still too short, but maybe I can wear it a few times if I get out of my head what it was
supposed
to be like.
The yarn is really soft and pretty, and only $3.99 a ball at Knit Picks. It's the City Tweed in Lemon Curd.