The other day I promised you a project. I've been a bit slow on projects lately. I cut out this jacket months ago and just finally got around to sewing it. It actually came together in no time.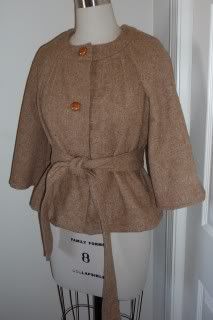 It's
Simplicity 3631
made with a 100% (scratchy) wool from Joann's that I got for 50% off.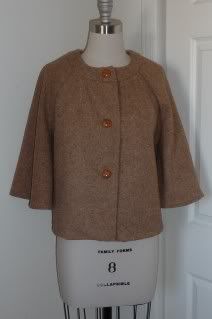 My skin cannot tolerate wool at all (which makes my snotty, no-synthetic-yarn knitting hobby tough, as that is mostly what I knit with), so I had to find a top that would not let the collar of this jacket touch me. So I did what every person who needs a wardrobe staple for next to free does: I went to Kohl's. I bought a lightweight brown turtleneck T-shirt, and I can still feel the wool through the top where it's pushed against my skin, like under the belt.
I took these pictures at midnight; I won't really be wearing this with gray pants.
The only issue I had was with the belt. I found it to be too short. And with interfacing, extremely stiff. I had just enough fabric to recut the belt longer and left off the interfacing. It's much better now.
OK, fine. I had one other issue. I sewed two left sleeves. Oh, I tried, of course, to convince myself that it wouldn't matter if I put one on backwards, but I'm not that stupid. So I had to rip out the (very wide) hem and two sleeve side seams and start over. Bad, but not as bad as the time I knitted
two left fingerless mitts
.