You think your office is cold? Ha! Unless icicles form on parts of your body, you have nothing on my office. Fleece jackets are really nice to have because they are lightweight, soft, comfortable and so very warm. Problem is, store-bought versions are often also nerdy, with teddy bear prints and puffy fits.
I made several fleece jackets from a different pattern before, and love them (see
this post
and
this post
).
This time I used Simplicity 2762 and a hot pink fleece with pink flower buttons. After I made the jacket, I sort of wished I'd bought black buttons, but I have a painter doing my stairwell as we speak, and I couldn't get down the stairs to go to the store. Being impatient, I just put the pink buttons on, and I think it's pretty cute. I can always change the buttons easily later.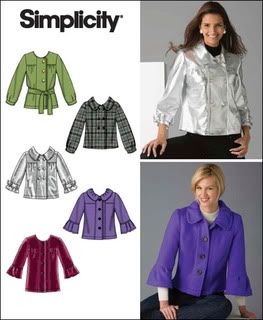 I did the purple jacket at the bottom.