Well, there's a chill in the air, finally. Here in Albuquerque the weather has been very warm. I kept wondering where fall was. I remember that no matter how warm it is in October, even if you could sunbathe most of the month, it's always really cold at Halloween. Now, a week before Halloween, it's getting cold. I still don't have my heater turned on. I think my husband likes this because I huddle for warmth at night instead of telling him to quit squishing me and go to his own side.
I posted more pictures of my Tilted Duster two posts down, but in case you're happening on this post on its own, here's
the link
. The pictures I had before were on my dress form and the lighting was awful. I'm so happy with it. Please go check it out!
I also decided to make this ear warmer called
Calorimetry
. It appealed to me because sometimes you need something on your ears, but if your hair is up you can't wear a hat. Unfortunately, I stubbornly refused to check my guage, and my resulting headband is suitably sized for an elephant. I can work with it, though. Here, it is folded in half, width-wise.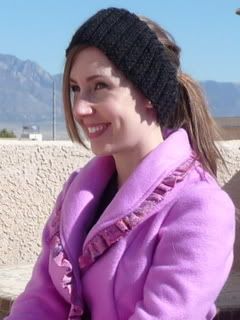 I passed by Bath and Body Works at the mall and saw these incredibly plush sheep. Knitters love wool, and wool comes from sheep. Wool doesn't come from this polyester fellow, but I wanted it nonetheless.
Tomorrow, I have a date with my husband, and I can't wait. We live in the same house and watch some TV together each night, but rarely do we have time off to go do something.
I'm off now to work on my weekender bag and a bag for my stepmom.