My office is cold. So cold. Miserably cold. It's just the time of year -- not hot, not cold, but the air conditioner is still going full blast. All the women are shivering. The men don't seem to notice.
On another tangent, fleece is so soft. Fleece is so warm. Fleece garments are so nerdy. When I think fleece, I think dorky, baggy pullover with teddy bear print. I see all the rows of fleece at the fabric store and wish there was a good use for it.
Back to the office: I have an old, old fleece button up jacket. It has no teddy bears, but it's sort of shapeless. I got cold enough at work that I had to put it over my more stylish sweater. I instantly felt warm and toasty. Fleece! It's so wonderfully warm, but still so nerdy.
Then I was looking through the pattern books at the fabric store and found a pattern with really cute fleece jackets.
I made the one on the left in black. I made a few minor mistakes, but it came out pretty adorable. It's perfect this time of year with jeans. Actually, sometimes fleece is so warm that you can use it as a coat in the winter. It's lightweight, soft, warm and very easy to work with. It doesn't fray and you don't have to finish the edges.
Here's my jacket: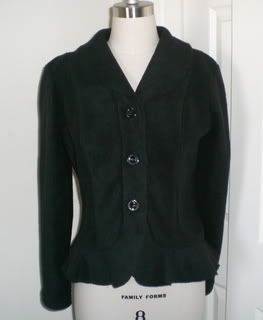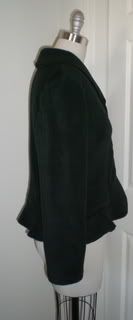 Stylish and warm! Can my life get any better?
Next up is the middle one in white.