Hey fellows! Do you want to harass women, but feel too lazy to make your own drive-by cat calls? Have I got the solution for you!
Try the Whistleciser xt-300. Driving by a lady? Sexual harassment is right at your fingertips. Just push a button, and the car loudly whistles at that object of desire who is just trying to get from Point A to Point B and completely minding her own business. But you're not, and, let's face it, trying to drive and whistle at the same time is hazardous. Also, are you sure your whistle can be heard over her iPod, which she probably has turned up just so she can be blissfully unaware of assholes like you?
The Whistleciser xt-3000 is guaranteed to provide you with a 0% chance of scoring! That's right -- it's been fully tested by thousands of women, and not one single one was attracted to the guy harassing them as he drove by!
Eliminate your chance with all women; buy the Whistlciser today! But wait, there's more! Order now and you'll get these Ogle-Glasses absolutely free!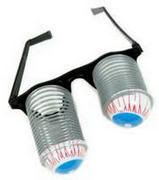 Call 1-800-SIT-AND-SPIN-YOU-PIG now!