Today: Lunch with Dad and Vi
Sunday: Movies and dinner with Mom and Grandma
Tuesday: David's taking me to Long John Silver's. Greasy goodness, here I come.
Wednesday (real birthday): Mark's taking me to dinner
For my birthday, Mark got me a serger. I'm so excited, but I'm also completely intimidated by it. I have had it for a few weeks now, but I haven't even tried to use it yet. I took it out of the box right away and left it on the living room floor for a long time. I finally brought it up to my workspace (please excuse the storage boxes behind).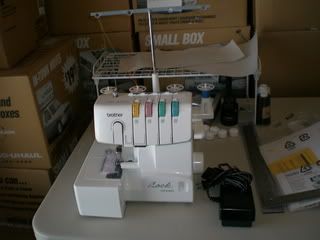 A serger involves many spools of thread (4 on mine) and a knife to trim as it sews. It scares me. But it will also allow my garments to have a more professional look since I can finish the seams nicely. It can also do some handy tricks such as blind hems and rolled edges, though that may take me a while to figure out. Apparently, just threading these things is a nightmare!
If you aren't sure what a serger does, look at the inside of a T-shirt. You'll see that the seams are bound by thread. It makes things look nicer, but it also keeps fabric from fraying. If the fabric frays up to the seams, it can weaken and open up.