My husband's out of town, so I've had lots of sewing time. Unfortunately, he took the camera, so I can only use my cell phone. Strangely, the photos are almost better than with my camera. Can't figure that one out.
In an earlier post, I showed you the
Prairie Girl dress
from
Favorite Things
that I am going to make with pretty Amy Butler fabric. Because of my recent mishaps, I was definitely going to make a muslin first.
Last night I realized there's a shirt version in the same pattern, which is just the dress cut shorter. I spied a pretty white/orange/blue/green vintage sheet in my collection and decided to go for it. This killed two birds with one stone: It basically served as my muslin (only change is the dress is longer) and allowed me to make something with all these sheets I've been buying. It was bugging me that I wasn't making use of them fast enough.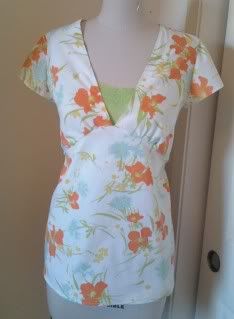 For the dress, I'll be doing the ruffled cap sleeve. I like this top a lot, but from the back, it sort of looks like a scrub top a nurse would wear. I think a lot of it's the sleeves.
I was going to make the dickey out of this sheet here, which sort of matched, but then when I tried the top on, I happened to be wearing this green tank that matched well. It brought out the colors better than the second sheet.
Next up is a gathered empire waist top made from this matryoshka print fabric that I bought some time ago. I didn't have much and couldn't figure out what to do with it since it's so wrinkly and doesn't lay flat. I am going to use Simplicity 3750, and I have it all cut out. That was no easy task. I decided the best thing to do was to lay it out on a cardboard cutting mat and pin the fabric stretched out. Then I cut to my best ability and let it shrink back up.