My sewing room is not the kind that people ooh and aah over with a cute shabby chic decor and some old, antique hutch containing all my colorful fabrics.
My sewing room is also the computer room/office. And it also holds thousands of record albums. I previously wrote about a sewing cabinet I found on Craigslist, and we talked the people into delivering it to us, since they had a truck and we didn't. They wanted $100, and we got it for $90. It's used and has its dings and scratches, but overall I really love it. It looks so much better than the folding table I had, and there's lots of room for storage inside, which really cleans up the room.
The downside is that there is no room for my serger on this table. But as I cleaned up this room (which took hours) and moved stuff out of it, I found a spot on the filing cabinet, and I'll just have to move the serger and plug it in when I want to use it.
OK, ready? Here is the before: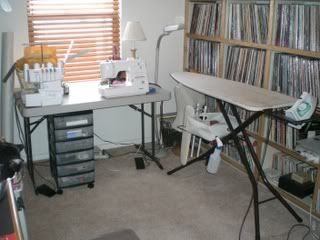 A folding table and plastic cart of drawers.
Here is the after: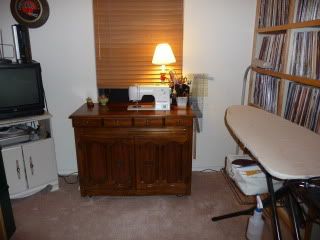 Look at all the storage! I was even able to put my sewing related books in there, clearing room on my regular bookshelf, which is jam-packed. Of course, there is not room for one more book.
I like to use a rolling stool to sew because I found an office chair with arms to be too cumbersome and in the way. Plus, I don't ever use the back of the chair. Downside is that when the cabinet is closed, where do I put the stool? I'm just rolling it under the other side of the computer desk, the side where you don't sit.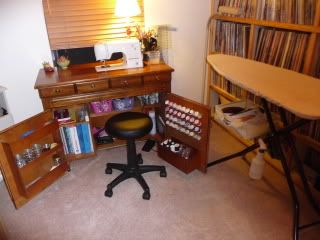 As I cleaned and decluttered, I thought of an excellent way to manipulate my husband into getting this stupid Mark Twain figure out of here. His sister gave me this maneki neko (lucky cat) that she brought from China several years ago. He hates it. So he agreed if I took that out of here, he'd take all this other crap out.
Next up is getting this TV out of here, because with the digital switch, it can't be used anyway. We don't have a satellite receiver in here. At the very least, I'd like to put a flat screen in here that takes up less room and looks better.
But back to my sewing area. I took down two ugly hooks I had on either side of the window that only some of my measuring tools would hang on because many had tiny holes. I put one single nail to the side of my table and hung all my rulers there.
You can also see my office caddy there. I keep a huge amount of my tools in that caddy. I can't believe how much stuff I have in such a tiny space. It's really convenient. Those plastic bins are what I use to collect threads. I put one on my ironing board, where I do most of my pinning and trimming and snipping, and one next to my machine.