Once upon a time, Mark bought a house. In this house, he put all his thousands of record albums in boxes into one spare room. There the records sat for years and years, untouched. He hoped that one day this would be "the music room."
Then, along came a beautiful princess named Robyn. She moved in and neatly stacked the unused records against the wall and moved her computer in. That's right, Mark didn't even have a computer. Eventually, the beautiful princess took up sewing and moved a big table and other equipment into "the music room." Eventually, even Mark started referring to it as "the sewing room," with much disdain.
Between the computer and the sewing machine, this room quickly became the beautiful princess's favorite place. She stared at the boxes stacked along the wall with disgust. "How can I work like this?" she asked. "How can I organize my stuff?"
But Mark refused to budge on moving the records out, so this is the best princess could do, and she's very excited about how organized it all is, all things (dozens of despised boxes) considered!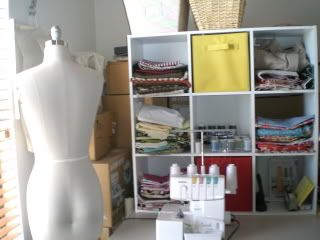 By the way, Mark says my dress form has a really nice butt.