On day 4, we went to one of those time share pitches. We've done them before -- we're practically experts in team work on them. We had no intention to buy, of course, but we got a big discount on all of our activities for the week.
Then we went to see Spouting Horn. There's some stupid legend about how some giant lizard got stuck in the rocks and spits or something, but what it really is is a rocky place by the ocean where water shoots up. The guide book showed it going really high, but this is what we saw:
We also went to see the famous monkeypod tree. I like anything about monkeys, even when it's just the word and not a real monkey. Here is mark acting like a monkey in front of the tree:
That night was the luau. After "South Pacific," Mark had little hope for this being fun. I told him to lose all expectations and expect cheesiness and it will be fun.
It turned out to be really fun. It was at a hotel nearby and started on the beach area of the hotel with all you can drink mai-tais. We thought they'd be weak, so we got a shot of rum from the bartender (all booze was free!). But they weren't weak, and when we added the rum, we found we were both a little on the drunk side very quickly. I didn't drink anymore so that I could drive that night. Here's mark on the beach:
There were also sand crabs. They are very hard to see and very small. Can you spot the sand crab in this picture?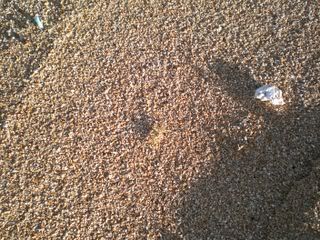 The the party moved into a huge tent. There was really good food! And native dancers! It was fun! Mark got up and danced, too. He's on the right in the black shirt.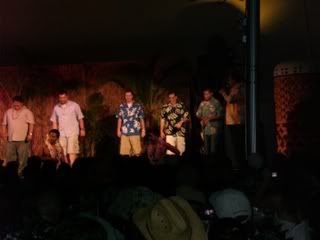 When we got back to the hotel, Mark wasn't feeling too good. Too much food, too many mai-tais, too much dancing: