Cute new stuff! I have added yoga mat bags and diaper bags to my line of items for sale at
Burst of Happiness
.
This diaper bag was a custom order for a friend. It takes a lot of work. On the outside, it looks like a regular tote, but on the inside are lots of pockets and dividers -- elastic ones to hold diapers, sippy cups, etc.: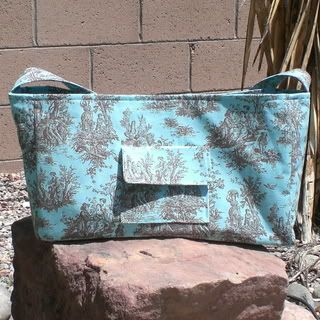 The yoga mat bags are a cute and convenient way to store and carry your mat. It can roll around the trunk of your car for 5 years while you don't use it, like mine, and still be clean! Clean for what? I don't know.
This one has a flower fabric with polka dot bottom, pocket and strap in coordinating fabric. It also has a drawstring top: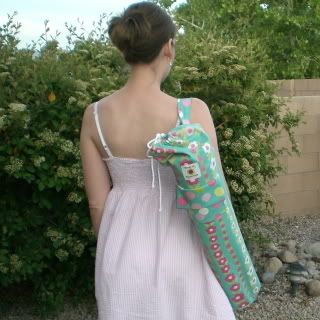 This hilarious fabric was bought by a coworker who asked me to make a bag. It's flannel, so it's not really proper bag material, but it's still super-cute, and it fits Sarah's style, which is also super-cute. It's covered with happy snacks. Hey, remember that song by The Who called "Happy Jack"? We could rewrite it for this bag - "Happy Snack." OK, that was stupid and neither here nor there:
I need to stock up for the upcoming
Neighborhood Market
, where I am selling this summer.
Here are a few totes and handbags, complete with crummy photography: