We stayed in Lihue, which is basically in the middle of the beaten path. There mostly is just one road around the island, but the circle isn't complete. You can't access the NW part of the island by car. So from Lihue, in the SE section, you can drive to the north or to the west. For the first day, we chose west.
Our guidebook suggested that we drive a little past the Wiamaia Canyon. I know I spelled that wrong and I'm just too darn tired to look it up. It suggested we check out some other stuff, and then head back there. Long story short, we ended up feeling like we were in N.M. and turning around early. Look at this picture -- if I told you it was N.M., you'd probably believe me. Also, there was this scary creature vehicle on the road.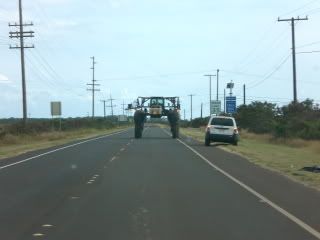 We caught a back road up to the canyon and met the main road about halfway up. This road was much prettier, but we were still unsure why we were there. Until a clearing in the trees opened up and we saw a gigantic, colorful canyon with long, cascading waterfalls.
We got excited, but there was one problem. We both needed to pee, and I really preferred a toilet to the woods. Every bathroom facility turned out to be a no-go and I had to go in the woods. I was traumatized by this because this one time, in band camp, or actually at Indian Princess camp with my dad, I accidentally peed all over my jeans when I tried to go in the wilderness. I guess some things you need to learn from your mom, not your dad.
By the time we hit the road back down to find a great view, a mist had come in and covered it all up. So here are some photos, but they are nothing like the view could have been.