On Friday, we had the activity I was most looking forward to: Barfing in the sea. Just kidding. It was a 5-hour catamaran sunset dinner cruise along the Na Pali coast with snorkeling -- an area you can't access by car. Doesn't this sound lovely? Well, it's not. It's a small boat packed with people. It's a terribly long and bumpy ride. Any time I tried to go into the sheltered area, I'd instantly start feeling bad. They said to avoid this area if you're seasick.
Nearly halfway through, we stopped at an area to snorkel. It was near the cliffs and not too deep -- maybe 30 feet or so. The water was remarkably warm. I was dreading touching it at first because it looked so cold and the weather wasn't particularly warm at that moment. Unfortunately, they gave no real instruction on it. I couldn't even get my mask on and had to get the cappy to help me. Then I went in and didn't have my mouth around the thing tightly enough and got a bunch of salt water in my mouth. Ocean water tasted pretty bad. Not like gargling with salt water when your throat hurts. It has fish doo and pee and stuff, along with rotting corpses of sea life and mafia victims and dead surfers, etc.
Several times, I got a bit panicky, with the water in my mouth and the current and the idea of this vast ocean with creepy things below me. When I did get it going, it was pretty cool. There were fish around (I think they fed them). When I got back in the boat, I immediately felt sick. From that point on I was horribly seasick. We moved on to the most beautiful part of the island and I missed it all. Note the rainbow in the second photo!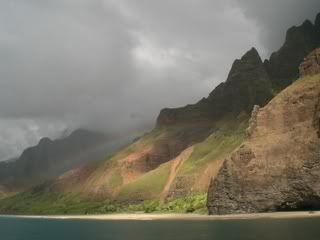 I didn't barf, but it took all I had. I couldn't wait for that ride to end. We did see dolphins, but it's hard to care when you're that sick. I felt unsteady even the next day.
Here's me feeling extremely bad and looking even worse:
Thanks, Mark for taking this!
Before we went to the boat ride, we stopped at a gift shop and took these surfing pics. Of course, I would never really try to surf. This is as close as it gets. I'm not sure who I'm waving to. I guess Nemo?