This is my flat pattern design class project. It will be a fitted shirt dress made of this yellow and white seersucker (or perhaps the wanna-be plisse. I haven't done the secret test I learned in textile science to see if it's genuine):
But for now, it's made of muslin and it's actually coming along well. I know that may be hard to see, but trust me. There are some complicated concepts to a button up shirt that I am not completely ready for. This dress is just pinned together in front, and one sleeve is more finished than the other. Also, the sleeves are poofing up quite strangely the way I'm holding my arms. Remind me not to stand that way when I wear it!
In the picture below, my arms look deformed. But they are quite normal in real life, I promise. You can see that along the shoulder blade region I have a bit of fabric pinned up. I don't know where that excess came from, or how to get rid of it, but that's what my instructor is for. I also have some weird pointy butt seam going on, which is also pinned.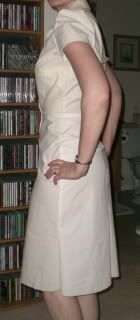 Overall, here's what needs to be fixed (I'll come back to this post when I lose my notes):
1. Armholes are a bit too tight
2. Need elastic around sleeve bottoms.
3. Back bodice is shorter than front bodice.
4. Back bodice has weird excess along shoulder blades.
5. Butt has weird pointiness in seam.
6. Skirt front has extra 1/2" along open seam -- take off.
7. I don't like what the button stand does from bustline to collar.
8. Add 1" to hem.
9. How to sew on collar so there's not an ugly seam?
10. How to sew on a cap sleeve so there's not a seam allowance showing under arm?
11. Hips fit perfectly, but I doubt I can sit. I need to add a bit of ease.
I guess there's more work than I thought! But if you compare it to the outcome in this
blog post
, you'll see a bit of progress!