I got home from work Saturday night around 11 p.m. and then sat down and made these before bed:
I really love this little purse. I got the fabric from the remnants bin for a great price (remnants means it was the end of the bolt and just little pieces left. They then discount it). These two fabrics were just piled in there, but they looked perfect together!
It's not clickable because it was given as a gift, but I still wanted to share it.
I also made this tote. I love the bamboo handles. It was inspired by my friend David's mom, who I have never met. But he was talking about having me make a bag for her for Christmas and then he pointed out some things she liked and I thought this would be the style.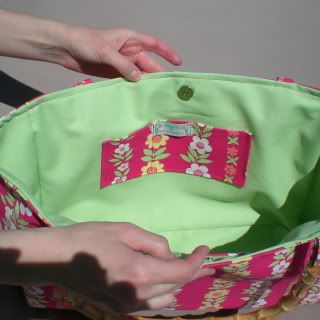 I would name it after her, but I don't even know her name!