CHALLENGE: dripping kitchen sink
ROBYN'S SOLUTION: probably just a washer or something in the aerator part on the tip of the faucet. Easy!
HOME DEPOT GUY'S SOLUTION: No, if it's dripping, it's the cartridge. You need to take the cartridge out of the faucet and bring it in so we can find the right one.
Oh, dear. This is a bit more complicated than I thought, but I have the Internet, right? I research the job and find that it's very simple. I also come across a video on how to completely change the faucet. This will come into play later.
Step 1: Take a shower, do your hair and makeup, and put on good clothes and jewelry.
Step 2: Approach the sink and show no fear.
((sink's view -- I think it can smell the fear))
How the hell do you even start? I pry off this top thingy.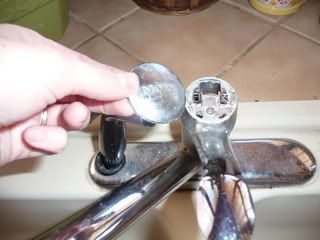 I quickly realize that every picture of this project will reveal shameful griminess.
Next: Get tool kit. My husband had a few screwdrivers and hammers lying around. Good thing my dad gave me this trusty tool kit some years ago. I love it and have always taken special care to return all tools to their proper places so they are always there when I need them.
Crap! Where are all the damn tools? I'm sure I can blame this on my husband, who is not organized like I am. Then again, I have never seen him use a tool.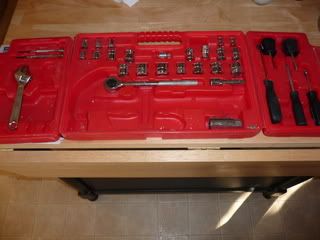 I know I need an Allen wrench, or at least I think that's what these are called. Of course, the size I need is not on here. But I find I have little loose interchangeable parts, and one of them fits.
Next, I need a Philips screwdriver, but naturally, the faucet company would not want to use one that is of average size. Never fear, I have an interchangeable one that fits! Thanks, Dad!
From here, I decide to just keep taking pieces off until I see something that says "cartridge" to me.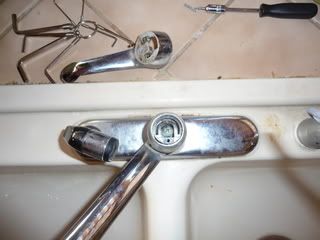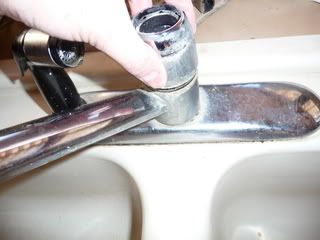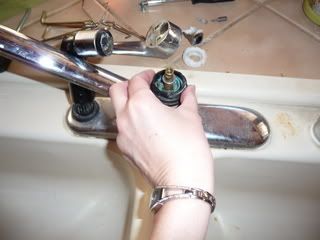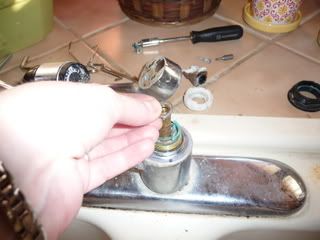 At this point, nothing more will budge. I pull and pull and twist and turn. I shred the metal with pliers. I'm not sure what to do. I'm sort of amazed that I made such a mess just to fix a drip. I decide to go to Home Depot and look at cartridges, thinking maybe I can figure something out by seeing what they look like.
But first, I need a hamburger. I think I deserve one, and the Flying Star will do just nicely. I enjoy most of my burger, then get up to get a drink refill. By the time I return, my table has been cleared. They kindly replace my meal.
I go to Home Depot and realize that cartridges vary widely and this trip is of no help. Suddenly, replacing the entire faucet seems so much easier. I mean, ours is a decade old and very basic. Maybe it would spruce up our kitchen a bit. You know what else would spruce it up? A new $220 black sink. One thing at a time.
And, dang! Did you realize kitchen faucets are really expensive? The one I picked was $120, and that was on the cheap end.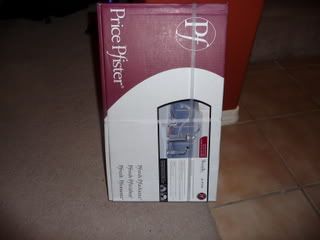 Now, I've got to get involved with the area under the sink. I clear out all the stuff and am appalled by the filth. Why don't I ever think to clean under there? I guess because there are better things to do.
Spray-spray, wipe-wipe.
There! Good as new! This will come in handy later when we are trying to lie down in there. Or Mark did, anyway. The idea of rust chips falling in my eyes and mouth didn't appeal much to me.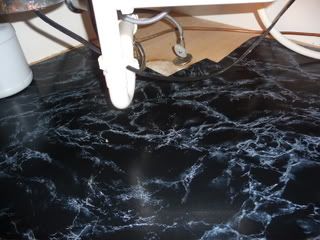 So, I watch a video and figure out how to disconnect the water source and the hot/cold tubes. That's easy. But my sink is not like the ones in the pictures and videos online. It's held on not by two bolts to the sides of the pipes, but apparently by one bolt that connects the spray hose and is located within centimeters of the hot/cold pipes, which are not rubbery at this area, but copper and don't want to make way for the wrench. I did buy a basin wrench, which helped in the space. I get it where I want it, but I can't budge it. So I get my not-so-handy-but-stronger-than-me husband and show him what bolt I'm going for and he gets under there and tries with all his might. He yells like those big guys at the gym when they are putting all their might into something. Then he complains he hurt his voice. But it's rusty and will not budge.
By this point, I had already gotten off the metal plate of the faucet, but not the part underneath. I discovered this nasty mess, though I'm starting to believe it's plumber's putty and not that I'm a disgusting, filthy, non-cleaning pig. If there's one thing I do clean it's my kitchen.
So that's what I'm left with. A gross, disassembled kitchen sink. My husband has already gone running to Ronnie, the neighbor who is a plumber, but he wasn't home. I hope he can come and help us very soon.