My brother came to town last weekend, from Maine. He doesn't get out here very often. He brought along a chicken named BokBok, which, like the famed gnome, had his photo taken everywhere and was emailed home, much to the delight of his children.
(I'm sneaking up on him)
One day, my mom, my brother and I went to Tinkertown in the East Mountains area near Albuquerque. Tinkertown is a "museum" of little scenes a man carved and created over the years.
(my mom and brother)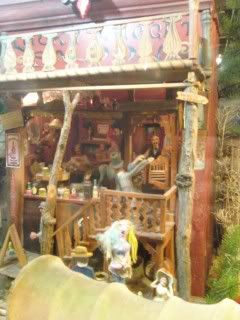 There are lots of random characters stuck here and there, like Wonder Woman and nuns and these racist-looking little Aunt Jemima-y people.
Another day, Ryan and I went to Whitewash, in the foothills of Albuquerque, part of the Sandia Mountains. Ryan used to climb up Whitewash when he was a kid. It's really easy to get to, and right at the edge of the city.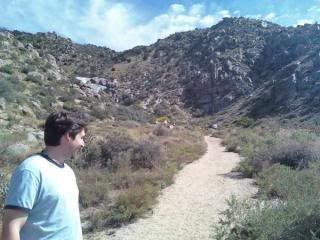 I wasn't very prepared for the activity and was wearing clogs, so I got stuck halfway there and couldn't go any further since my shoes kept falling off. Ryan climbed all the way up. He's at the top of the white rock area, but you can't see him.
Here's BokBok making an appearance.
A view of Albuquerque from up there
And, finally, a random picture of my Grandma being silly.