Long story short: I was on Flickr, visiting an embroidery group, and found this piece of embroidery that the owner just didn't feel like finishing. She wondered if anyone would be willing to take it off her hands and give it a new life.
She lives in South Africa, and when she first tried to get it in the mail to me, there was some upheaval going on. Strikes and such, and she didn't trust those who took over temporarily to get the mail out. It's strange to imagine living in a place like that. I think we take our stability for granted. I get mad when the Post Office is closed for a wimpy holiday like Columbus Day.
She had to wait awhile, and I forgot all about it. Yesterday, I got a package in the mail, and it was such a joy!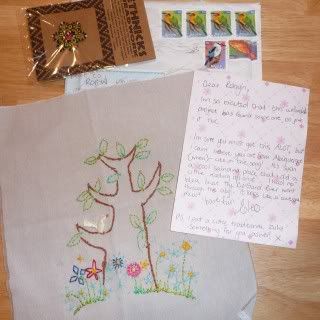 She sent me a little, hand-beaded brooch made by Africans as a means of supporting themselves. The beads all have a meaning.
She also sent me the sweetest, most adorable note: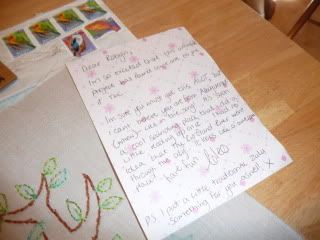 It says, in part:
"I'm sure you must get this ALOT, but I can't believe you are from Albuquerque (whew) -- like in the song! It's such a cool sounding place that I did a little reading up on it. I had no idea that the Rio Grand River went through the city. It looks like an awesome place!"
I love, love, love that note. First, nobody ever is impressed that I live in Albuquerque. Pretty much, if you are somewhere else and you tell people you're from here, the standard response is "Hmmm. I drove through there once, but didn't stop."
I am not sure what song she's referring to, and the Rio Grande is not very impressive, but I'm glad someone thinks my hometown is special. I am going to post this note on my bulletin board!
After I finish the embroidery, I think I'll make a pillow out of it. I found this really cute fabric at the store today, with leaves and birdies and such.