A few posts ago, I showed you the red Rowan Biggy Print yarn I was given in a swap on Ravelry. Since I didn't have a lot, I made the Carie Cropped Flare-Sleeve Cardigan from "Fitted Knits."
It knitted up quickly, albeit not necessarily easily, since working with giant needles and fat yarn can be a little cumbersome.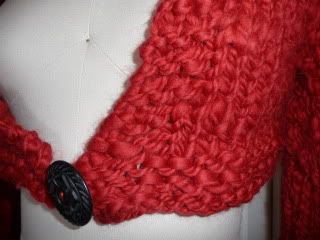 The sleeves were definitely more "flared" than in the pattern photos. They are huge! I did rip out the first sleeve and redo it with four more stitches because it has seemed like it was going to be too tight when sewn closed. I think four stitches was too much, because then you add six more stitches toward the cuff, and get these giant bells.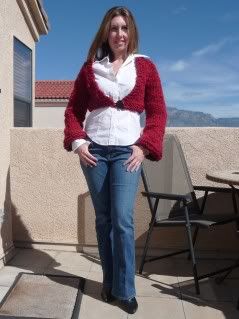 I couldn't really put together an outfit I liked. I also found the sweater to be way too bulky and uncomfortable. It tried to slide off my shoulders all evening. It drove me nuts.
It looks so much better on my dress form. Maybe I'll give it to her.