I have come to the conclusion that it's time to give up on a few projects. I could just secretly throw them out and let you think that I'm a good sewer, but I am open to exposing my flaws publicly.
Simplicity 2927
This version was supposed to be a mock-up, using fabric I got for 50 cents. I started to think that maybe it would actually turn out to be a cute top. I actually dragged this out for weeks. I hated working on it. I started to think that I would not even try to make this pattern out of the "real" fabric I had bought for it, even if the gray top did come out nice.
It didn't.
Problem #1: cheap fabric.
Problem #2: really bad thread. Not proper sewing machine thread. I got it in a
big grab bag
at the thrift store. I could tell that this spool should be tossed because the quality was just awful, but I needed gray thread that day, so I used it anyway. It was coarse and broke a lot. It caught in the machine and wouldn't feed well.
Problem #3: I cut two right-hand pockets and then had no more fabric to fix it with, so I couldn't use them.
Problem #4: I struggled to make the rounded front collar. It came out uneven and wonky.
But I'm still on board here, you know?
Problem #5: Horrible, horrible job putting in the lapped zipper. I have never been good at zippers, and especially lapped zippers. Here you can see the stitching is uneven, and then of course I ended up with a large pucker at the bottom.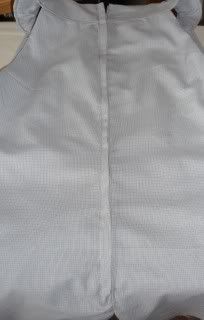 At this point I decided to forget the whole thing. I'm just not willing to take out the zipper and do it over. I want to put this project behind me.
Serger cover
I was going to make a serger cover with some stash fabric and McCalls 2723. I hate this pattern, too. It's a pattern I've had for ages and once made my sewing machine cover from. I realized after this one took a turn for the worse that I had modified the sewing machine cover, for good reason.
This project requires you to sew the lining, batting and outer fabric together, with wrong sides together. Of course, this leaves a big, ugly seam that you then have to wrap with bias tape and sew. Only it's thick and awful and I couldn't sew it straight to save my life. It's also, like, 2 feet tall, enough for two sergers stacked on top of each other. I don't get it.
I left it sitting around for a while trying to decide if I was willing to unstitch the whole thing and then resew it, but with with right sides together around the bottom and turn through a hole in the lining. I decided that I'd rather toss it.
My craftmanship is so embarrassing that I will not allow you to see it. I have photographed it from many feet away, to spare you the horror.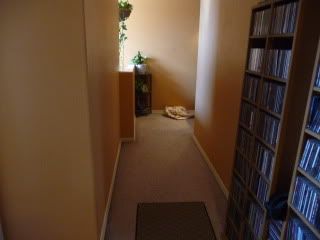 That's it, on the floor over there. Squint hard.
I can do some good things
I'm embroidering some cutesy-poo things that I won't photograph quite yet. It will give you something exciting to look forward to in your life.