Mark and I went to Las Vegas for a few days to celebrate our fourth wedding anniversary. I took the camera, but somehow didn't take any pictures at all. It's a terrible shame, because I got my hair done one night and this amazing stylist GOT IT TO CURL. And it stayed all night. And even the next day it was curly! Actually, it kind of weirded me out to see curls on my head, despite 35 years of trying desperately to get them.
And no pictures of the curls.
I don't really have that much to say about the trip. We ate. A lot. We drank. A lot. We snorted coke. But not too much.
I saw "The Jersey Boys," and although normally musicals make me want to disembowel myself, this one was amazing. But, I don't care what Mark says about it, I hate the song "Dawn" by the Four Seasons. I do like "Oh What a Night."
We always stay off-strip at the Palms, which is really a party place. The noise gets to me. There's music blasting everywhere. This time I insisted we go to the strip and just wander. We went on Sunday afternoon, and I had to choose between two troublesome options: wear jeans and socks and tennies, and have happy feet but be extremely sweaty and miserable. Or wear a light sundress and sandals, but risk my usual blistered mess. That's because my feet don't really get callouses. Yeah, I know. You're totally jealous, and you'll think of me the next time the pedicurist is sloughing off your dried up heels. But what it actually means is that my feet are always blistered.
So we get a ride to the strip and wander about. My feet were OK. I was wearing these (my only lousy excuse for a picture with this post):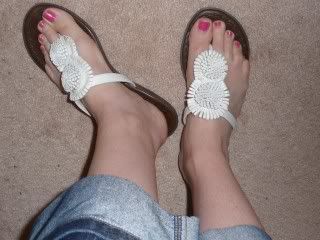 They don't give me blisters, but there's no arch support or padding whatsoever. At one point, we're in Caesar's Palace, and Mark suggests we just walk all the way back. But we came out of the wrong exit and ended up walking the wrong way. We got to the street we needed to take, but it was an overpass above us. And there was no earthly way to get up there. Someone painstakingly made sure to block every possible way with a fence.
We walk past, and find a little path. After trudging along for a while, surrounded on both sides by thick shrubs and chain-link fences, and noting that this would be an excellent place for muggings, Mark says "Shhhh. I think I saw a wolf." Great.
Well, we didn't get eaten by a wolf, but we did run into a locked chain-link gate at the end. It was probably about 7 feet high, and Mark wanted to hop it. I was wearing a dress and those fabulous Payless Shoe Source sandals above. There was just no way. I would have sliced up my legs, torn my dress, lost my shoes. So we walked back down and noticed a lady in a toll booth outside the back of the Bellagio. She pitied us and gave us drinks of water, but told us there was no easy way to walk to where we were wanted to go. It was a mere few-dozen yards, but there was no way to get there. She pointed us around the back of the building to the employee entrance and radioed ahead to let us through. As we walked, one person after another silently pointed the way until somebody took us a back way into the hotel. Eventually we made it out front. But now we were still miles away from the Palms. Should we call a ride? No, not after all this. We're making it on foot, dammit.
And so we walked. And walked. And walked. And we did it. My feet were on fire by the time we got back, but no real damage. Go crappy Payless shoes!
I was going to provide a Google Map to show you how horribly far we trudged, but it showed that from the Bellagio to the Palms is only 1.3 miles. I guess that now I look like a bit of a whiner. We
did
walk for a few hours before that point, though, if that helps my case at all.
And, yes, I still have heels as soft as a baby's bottom.