It seems I've been embroidering birds lately. I'm not sure why. (See the scary
"Alouette" post
)
One day, I was frolicking about on Flickr when I found
this vintage embroidery transfer pattern
:
Something about it inspired me, and I decided it would make a nice purse. I always need a more plain handbag, but whenever I'm sewing I'm attracted to the fun fabrics. I got some plain, tan fabric and used a transfer pencil (bought at Michael's) to trace the drawing after printing it on my printer. I then transferred it onto the fabric with the iron and embroidered it.
Next, I dug around in my stash for a lining fabric. I found this perfect one. It brought out all the colors in the embroidery, but it's sort of bold, so I decided to but a band of the plain fabric around the interior top so that the lining fabric isn't distracting from the embroidery and is less visible.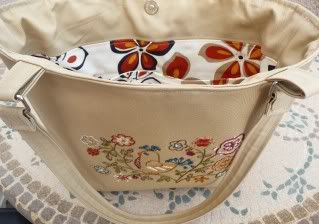 Then I sewed her up.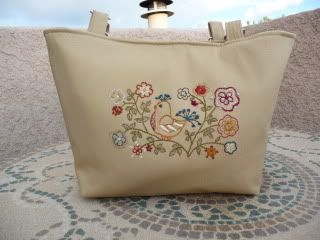 To do something different than usual, I used square rings on the handles. It gives it a nice touch.