I love this pattern. It's pretty easy, it's super-cute and it all comes together perfectly. Usually, it seems that things don't line up this easily. It also has details like the flower brooch, and you can wear it with or without a tie belt.
I used Michael Miller
Black Zip Zinnia
fabric from
Hip Stitch
because, as much as I love Amy Butler prints, she doesn't really do black. And I wanted black to wear with my leggings.
I made it on the short side, because I've been working out and I thought my legs were shaping up nicely. But then, looking at these photos, maybe not. But they will. I'm very into the gym right now.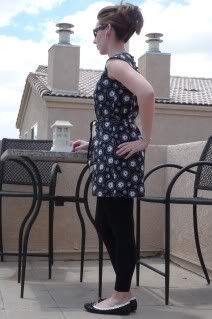 I kind of like it beltless, though
my other version, the tunic length
, I like with the belt more.
I put a big red, mod button in the middle of the flower brooch.