I bought this (rather enormous) pillowcase at an estate sale recently.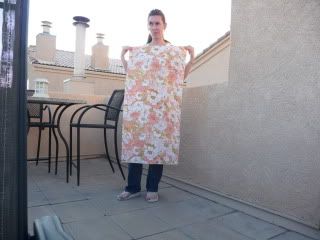 I really liked it and have been kicking myself for not buying the other half of the pair because it was never enough to make anything. Then I saw
this pattern
for a shirred pillowcase top and got inspired.
Then I thought, "darn if that isn't a really long pillowcase. Perhaps it could be a dress."
Then I thought of
this dress
I've been drooling over for a while.
I decided to go for a dress, but with an empire waistline. I had never shirred before. It's actually very easy. Instead of using thread in the bobbin, you use elastic thread, and then pretty much sew in straight rows.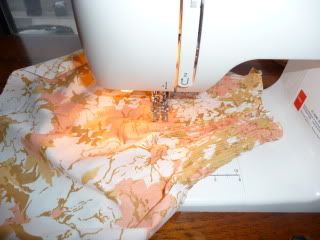 I cut my pillowcase up and started shirring. And then quickly realized that this item was going to be small. Really small. I mean, I'm small, myself, but not
that
small.
I thought maybe it would fit my friend's tiny 7th-grade daughter. Then I thought maybe it would better fit her 5-year-old daughter.
So I stopped shirring earlier than I would have to create a smaller chest area and then did a separate skirt. This was dumb. I should have just left it one big piece. I realized if I simply gathered the skirt and sewed it on, the waist would have no give, and therefore the dress may be difficult to put on, since there is no zipper or anything.
So I started making an elastic casing for the waist and then couldn't figure out how to sew it onto the top. If the casing is right at the top, then where is the seam allowance? So I left a seam allowance and made the casing a bit under that. Then I sewed it on and it looked like crap because there was shirring, then a big gap, then an elastic waistband. I had to sew the seam closer, and in the end there was a big, unruly seam allowance that bunches up the waist area.
I know there has to be an intelligent way to do this, but I simply am not seeing it.
OK, so I used the idea in the shirt tutorial above and put rick-rack along the pillowcase hem stitching. Then I attached straps (tie straps, since I didn't know how long to make them. I never sew for kids.) and put decorative buttons on the front for a touch o' cuteness.