I totally scored at the thrift store today when I went to check out if it got any "new" vintage sheets in. I'm trying to make the
Nine Pillowcase Quilt
, but in my excitement over finding vintage sheets on my first trip, I ended up with a bunch of white backgrounds. I wanted some with more bold color to mix it up.
I've looked online, but people on eBay and etsy are quick to mark up the prices, because it seems people are interested in other people's old, used sheets. Yummy. But the basic thrift store is not yet aware and prices them at 99 cents to $3.99.
As I reported before, I did find a
vintage sheet swap group on flickr
, but you only get tiny 7x7 inch squares. I managed to pick up a few colorful pieces.
I made another trip at one point to Savers and one to Goodwill, and neither had any brightly colored vintage sheets. Well, today, I got some awesome ones. A very pink, a very blue and one with ugly orange stripes!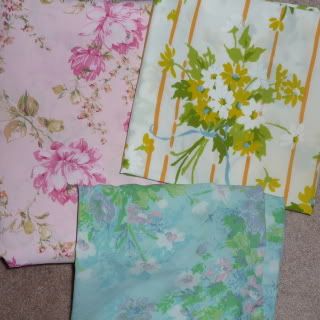 And here are my swap pieces, followed by the rest of the sheets I'd picked up before: